Alan Terricciano
Educated at Yale University and the Eastman School of Music, Alan Terricciano is a Professor on the faculty of the University of California, Irvine, where he serves as the Acting Dean of the Claire Trevor School of the Arts. Previously he served as Chair of the Dance Department. For the past 25 years Mr. Terricciano has been professionally active as both a composer for choreography, and as a pianist with a particular focus on choreographic collaboration. Mr. Terricciano has received numerous commissions and awards.He was recently named Orange County's 2005 Outstanding Individual Artist of the Year by the organization Arts Orange County. He is also the 2006-7 recipient UCI's Distinguished Mid-Career Faculty Award for Service. In 2000, He won the Grand Prize in Quebec's Festival des Arts de Saint-Sauveur international competition for original composition for choreography with his work Blue Motions for String Quartet.
Most recently, Professor Terricciano's score for orchestra and voice, Masque, an adaptation of Edgar Allan Poe's "The Masque of the Red Death," was developed into a theatrical work with the dance department in collaboration with Donald McKayle, Lisa Naugle, Michel Gervais and John Crawford. In the recent past, Alan has received several significant commissions. In June of 2005 he composed and performed the sound score for an evening length installation at the Japan America Theater for the company Loretta Livingston and Dancers. In April of 2005, he completed a commission for the Ballet company of the Amsterdam TheaterSchule to choreography by Douglas Becker. In October, 2003, the Orange Coast Symphony commissioned and premiered the Concerto for Clarinet and Strings. In November, 2002, Canciones de Fray Serra, for orchestra, premiered with the Elmhurst Symphony Orchestra (Illinois). Another large-scale work, Night Cafe (after Vincent), a commission from the Yale Concert Band, premiered in November of 1998. His first orchestral score, A Tale of the Spider, for narrator and orchestra, was performed by the Minnesota Orchestra in November of 1994, and by the Elmhurst Symphony in March of 1996. Other recent collaborations include work with Donald McKayle, Colin Connor, Jeff Slayton, Mark Haim and Douglas Nielsen.
As a performer Mr. Terricciano is primarily active as a chamber musician. In the Winter of 2005, he performed Brahms' Trio for Violin, Horn and Piano, Hindemith's Sonata for Alto Horn and Piano and premiered an original piano trio, all with colleagues from the music department. In December of 1999, he performed Frederic Rzewski's 4 North American Ballads for the Piano with the Alvin Ailey Dance Theater at City Center in NYC for the premiere of Donald McKayle's Danger Run.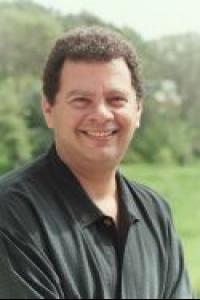 Specialization:
Musical Resources
Music for Dancers
Dance Accompaniment
Composition
Multimedia Arts