Lindsay Gilmour
Lindsay Gilmour is a performer, choreographer, improviser, and educator. She is the recipient of a Nehru Fulbright Award for Academic and Professional Excellence (2018) and a Hellman Fellowship (2020-2021) in support of her research exploring the preservation, adaptation, and innovation of Ritual Dance in Vajrayana Buddhist Nunneries and Monasteries in India. She holds a M.F.A. in Performance and Choreography from the University of Wisconsin-Milwaukee; a M.A. from Columbia University's School of International and Public Affairs, focused on Tibetan Studies and Conflict Resolution; and a B.F.A. in Performance and Choreography from the University of Montana. She was an Assistant Professor of Dance at Ithaca College from 2006-2018, where she taught modern technique, composition, embodied presence, contact improvisation, dance history, and dance and world culture.
Her choreography explores presence, ritual, and rebellion, and fuses text, voice, and the moving body. She combines the political, the mystical, and the absurd, both honoring and poking fun at the human condition. Her choreographic works often integrate innovative sets and costumes, including live grass, 100 hanging dresses, 200 origami birds, and a 30-foot wig. Her choreography has been shown at the Kennedy Center in Washington D.C.; at Judson Church at Movement Research and Dixon Place in New York City; as well as at The Kitchen Theater, The Schwartz Center, The Hangar Theater (in collaboration with Cayuga Chamber Orchestra), and the Finger Lakes Environmental Film Festival in Ithaca, New York. She has been an Artist in Residence at the Festival de Danza Contemporánea in Managua, Nicaragua, and an Artist in Residence with OTUX Dance in Santiago, Chile. Her work has been performed at Body-Mind Centering Conferences in Ghent, Montreal, and Santa Barbara. As a performer, she has toured nationally and internationally with Yin Mei Dance (2006-2010) and with Pearson/Widrig Dance Theater (PWDT) (2001-present). Most recently, with PWDT, she co-created a site-specific performance and film at the historic Castillo San Cristóbal in San Juan, Puerto Rico.
Lindsay is on the Board of Directors of Dongyu Gatsal Ling Nunnery in India. She has created cultural studies programs in Tibet with Where There Be Dragons and in India with Namgyal Monastery exploring Tibetan Buddhist arts and culture.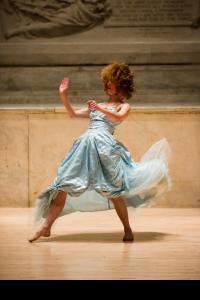 Specialization:
Modern Dance
Choreography
Improvisation