Lindsay Gilmour
Lindsay Gilmour is a performer, choreographer, filmmaker, and educator. Her work explores presence, ritual, and rebellion--fusing text, voice, and the moving body. She combines the mystical, political, and absurd, both honoring and poking fun at the human condition. Her most recent works delve into embodying local landscapes and our need for wild untamed spaces. She is the recipient of a Nehru Fulbright Award for Academic and Professional Excellence (2018) and a Hellman Fellowship (2020-2021) in support of her research exploring the preservation, adaptation, and innovation of Ritual Dance in Vajrayana Buddhist Nunneries and Monasteries in India. She is deeply interested in embodied knowledge and exploring what ancient dances might share with contemporary somatic movement practices.
Her film, Weight of Moon, has been shown at 12 different national and international film festivals, mostly recently Dance Camera West in Los Angeles, Dance Camera Istanbul and In Shadow in Lisbon. Her works for the stage often integrate innovative sets and costumes, including live grass, 100 hanging dresses, 200 origami birds, 100 blocks and a 30-foot wig. Her choreography has been shown at the Kennedy Center in Washington D.C.; at Judson Church at Movement Research and Dixon Place in New York City; as well as at The Kitchen Theater, The Schwartz Center, The Hangar Theater (in collaboration with Cayuga Chamber Orchestra), and the Finger Lakes Environmental Film Festival in Ithaca, New York. She has been an Artist in Residence at the Festival de Danza Contemporánea in Managua, Nicaragua, and an Artist in Residence with OTUX Dance in Santiago, Chile. Her work has been performed at Body-Mind Centering Conferences in Ghent, Montreal, and Santa Barbara. As a performer, she has toured nationally and internationally with Yin Mei Dance and with Pearson/Widrig Dance Theater (PWDT). Most recently, with PWDT, she co-created a site-specific performance and film at the historic Castillo San Cristóbal in San Juan, Puerto Rico. 
Lindsay is on the Board of Directors of Dongyu Gatsal Ling Nunnery in India and is part of Core of Cultures research team dedicated to safeguarding intangible world culture, and assisting the continuity of ancient dance traditions and embodied spiritual practices.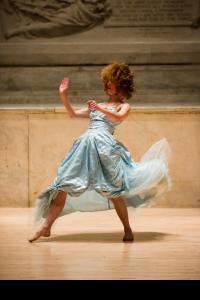 Specialization:
Modern Dance
Choreography
Improvisation