Loretta Livingston
Background:
Loretta Livingston is a Los Angeles-based dance artist who enjoys creating dance performance events for proscenium stages, galleries, black box spaces, and on-site locations. A California native, her professional dance training took place in the experimental and interdisciplinary environment of California Institute of the Arts (CalArts), under the tutelage of West Coast dance legend Bella Lewitzky, master of dance-theater choreography Donald McKayle, and Croatian-born American prima ballerina Mia Slavenska. Loretta's first decade as a professional modern dancer was spent touring nationally and internationally as a member of the Lewitzky Company. After leaving Bella's work to form and direct her own Los Angeles-based ensemble of many years, Loretta gradually shifted to a focus of serving as an independent dance artist investing in international projects.
Current Interests
Since being chosen by the U.S. Department of State, Cultural Division, in 2003 to be part of a cultural diplomacy project placing five American choreographers in five Islamic countries to create new dances, Loretta has continued a practice of international collaborations. Her State Department project was in Istanbul, Turkey, initiating a series of visits to Turkey from 2003 through 2009 to teach and create performance projects. Between 2007 and 2011 Loretta was a guest artist at LaSalle College of the Arts, Singapore, teaching, creating and re-setting dances. She has worked as a visiting dance artist in Seoul, Korea since 2005. Loretta's choreographies have been shown in the Singapore Dans Festival, the Dance Camera Istanbul Festival in Turkey, the Seong Nam International Dance Festival, and the Busan and Seoul International Improvisation Dance Festivals in Korea. Since 2012 Loretta has been a founding member the Seoul-based ING Improvisation Performance Group, an ensemble of performing and visual artists who are Korean, American, French, and Finnish. Currently directed by Korean artist Moonea Choi, the group is known for international, interdisciplinary, and intergenerational approaches to making dance-theater.
Dance in Education
Loretta's participation in dance in higher education is through her position as Professor of Dance in the Department of Dance at the University of California, Irvine, as well as being a guest artist in residencies in other university dance programs nationally and internationally. Since 1993 and to the present, Loretta often serves as an adjudicator for the American College Dance Association conferences, across many national regions.
As a dance educator, Loretta enjoys inviting students into their own choreographic practice and considers it a privilege to work closely with them in the development of their individual creative processes.
Worldview
A life-long learner, Loretta will complete her Ph.D. in Dance from Texas Woman's University by the end of 2019, with a dissertation on artists' eclectic and experimental practices following the Judson era.
Loretta considers living life with a "beginner's mind" compatible with her worldview as a perpetual student and member of the Sōtō Zen Buddhist lineage.
Photographer: Ok Sang-hoon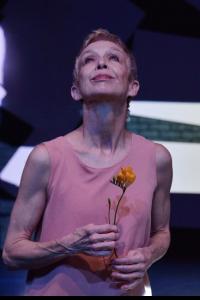 Title:
Professor of Dance, Emeriti
Specialization:
Choreography
Laban Movement Analysis
Graduate Seminar in Movement Analysis
TA Advisor
Co-Advisor for the BFA in Choreography