Artful Summers
Summer Academies in the Arts offer college and career preparatory programs 
By Christine Byrd
Mafer Reyes had been dancing at private studios and ballet academies since she was 5 years old. But when it came time to think about college, she realized she had no idea what to expect from studying dance at a university.
Browsing online during her junior year of high school, Reyes discovered the UCI Summer Academies in the Arts, which offer intensive two- and three-week programs in art, dance, drama and music geared toward students who are serious about pursuing their art professionally or in college. With the encouragement of her high school dance teacher, Reyes applied and earned scholarships to the Summer Academies' dance program.
"The best part was that I got an inside look at what a college-level dance program is like and met other students who also wanted to study dance in college," says Reyes. "It's a very good way of deciding if you want to go to college as a dance major."
College and Career-ready
Since 2012, the Claire Trevor School of the Arts has offered intensive, full-day programming in art, dance, drama and music through its Summer Academies. Over the years, the program has narrowed the ages it serves to focus exclusively on high school and college students who want to explore the university-level arts experience while strengthening their résumés and college applications.
"As we grew, year after year, more students were coming to us really looking to be pushed artistically," says Kaysie José '11 outreach programs manager, who managed the program for six years. "They wanted something next-level."
The 2022 Summer Academies feature intensives in chamber music, digital music production, drawing and painting, digital photography, musical theater, and conservatory dance. In addition to technical training in each art form the program provides practical advice and information about pursuing art in college or professionally. 
"We're keeping the focus on career and college readiness, including audition preparation and résumé building." 
"We're keeping the focus on career and college readiness, including audition preparation and résumé building – things that UCI is uniquely positioned to provide," says Megan Belmonte, director of outreach programs in CTSA.
The Summer Academies are designed to closely replicate the undergraduate arts student experience at UCI: classes take place in on-campus studios with 10 to 20 students in each course, and instructors include both arts faculty and M.F.A. students. The sessions include panels of alumni and current students to share their experiences in college and beyond.
While the Summer Academies primarily draw students from Orange, Los Angeles, and northern San Diego counties, some have traveled from across the country or all the way from Shanghai and Costa Rica to attend. To ensure students are placed in the appropriate class level, beginning to advanced, participants submit samples or videos of their work when they apply.

Image: Students develop their drawing and painting skills in a variety of media at Summer Academies in the Arts. (Photo: Will Tee Yang)
All of the intensives culminate with a student showcase, whether that's a gallery showing for visual artists or a performance on a CTSA stage with costumes, lighting and sound.
"For us, it's about making sure they walk away more prepared for their future than when they came in," says José. "They are building connections, networking, and getting a better sense of the college experience and the professional arts world."
Support for Young Artists
To ensure that financial burdens don't prevent promising young artists from participating, the Summer Academies offers full and partial scholarships as well as financial aid based on household income and family size.
"It's critically important to provide these opportunities, so we make sure that no one is unable to participate because they cannot afford it," says José. The scholarships cover lunch at the campus dining halls and include transportation to and from the camp every day – additions based on feedback from students and families about the barriers to participation they were facing. "We listen to and learn from our community," says Belmonte. "The Summer Academies create connections and opportunities that extend well beyond several weeks of summer. We enjoy keeping in touch with our students and seeing how they progress on their artistic and academic journeys."
Reyes is one of the students who received a scholarship to attend the program. And, like a number of other Summer Academies students, she went on to enroll as an undergraduate at UCI, where she also received a generous financial aid package.
"I learned about UCI and fell in love with the campus and the dance studios that summer," says Reyes, who is now a second-year dance major at UCI.
In addition to gaining insight into what ballet, jazz and modern dance classes are like at the university level, Reyes discovered a whole new world of choreography principles through the Summer Academies.
"For us, it's about making sure they walk away more prepared for their future than when they came in."
"They taught about energy and using the space around you – so many things I didn't know about from my conservative ballet school," says Reyes. "I learned so many concepts that expanded my knowledge and my love for dance in a new way."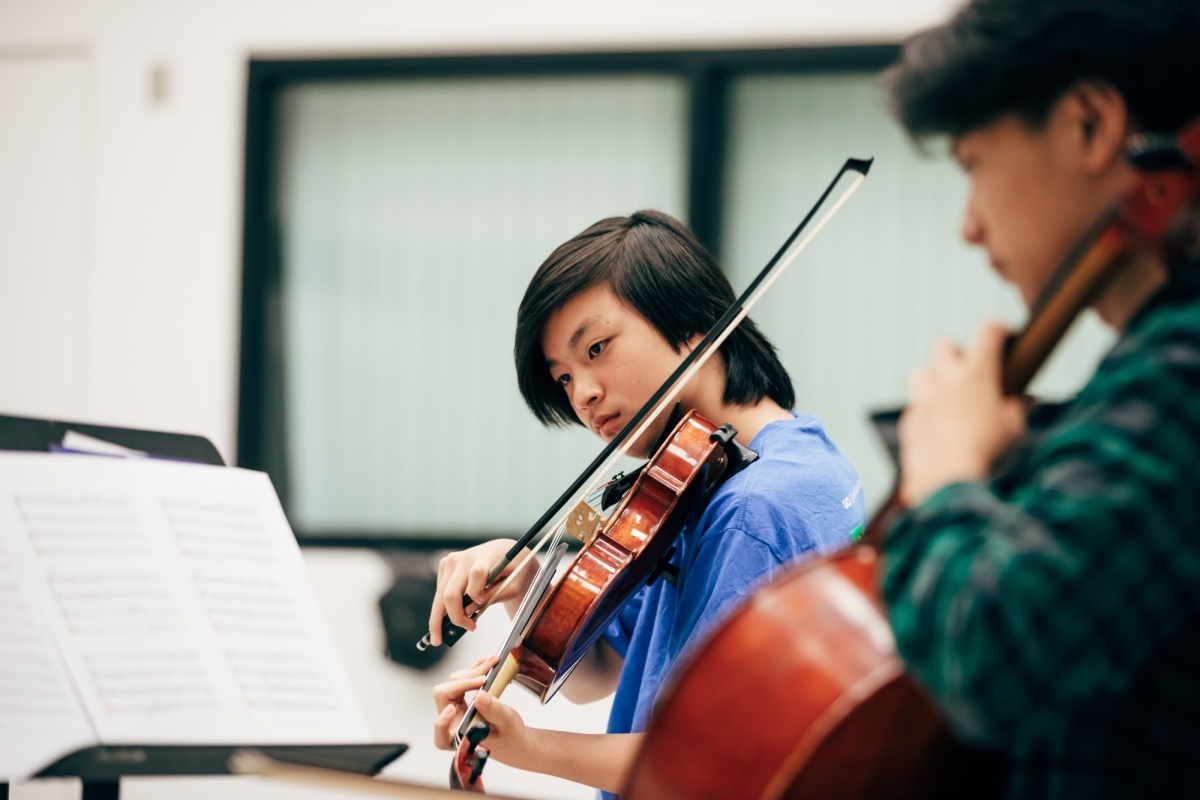 Image: Students collaborate while preparing for college and professional auditions in the Chamber Music intensive. (Photo: Will Tee Yang)
Belmonte and José aim to give exactly this kind of experience to the Summer Academies students across all of the programs. Students finish their intensives with both tangible takeaways, like an updated résumé, and intangible benefits, like becoming a more well-rounded artist.
"Maybe a student has only ever experienced drawing, and we're able to expand their artistic vision in the summer," says Belmonte. "It's about expanding their artistry and perhaps even finding a love for something they didn't necessarily expect."
For other young artists like herself considering the Summer Academies, Reyes offers this advice: "You should do it, period."
---
To learn more about the UCI Summer Academies in the Arts and other outreach programs, visit www.arts.uci.edu/outreach.
Please visit our secure direct giving page and make a gift today!
CONNECT - Summer 2022