Broadway Visions Come True
UCI Dance alumni Justin Keats and Amy Quanbeck share their skills during a masterclass homecoming
By Isabella Granqvist and Mia Hammett
At UCI, the Claire Trevor School of the Arts (CTSA) Department of Dance does one thing exceptionally well: turn talented, eager undergraduate dance majors into full-time professional dancers. While UCI alumni fill the ranks of choreographers, stage managers, set designers, and dance instructors across the country, the CTSA Department of Dance, too, has most notably supported lifelong careers on Broadway.
On Nov. 18, UCI-students-turned-Broadway-stars Justin Keats (B.F.A. '11) and Amy Quanbeck (B.F.A. '12) dazzled an undergraduate dance studio with their take on Sonya Tayeh's original choreography from Moulin Rouge! The Musical. On the national tour of Moulin Rouge, Quanbeck and Keats perform as swing and dance captain and swing and assistant dance captain, respectively. As a "swing," both Keats and Quanbeck must be prepared to perform as any given member (or members) of the cast at all times. They are duly responsible for memorizing and applying the precise, ordered movements and stage positions, or "blocking," of any and all cast members.
Masterclass
In the largely informal, tightly occupied Dance Studio 1100, you can hear the padding and clicking of socks, tap shoes, and bare feet against the wood-paneled floor. Here, Keats and Quanbeck are not teaching from the distant, disproportionate height of a stage; both of them stand within feet from the students. Keats and Quanbeck are made physically equal—and visually indistinguishable from the student dancers. In what looks like an intentional breaking-down of boundaries, this may instead be the first lesson taught by a pair of seasoned dancers: that each dancer is one part of a cohesive whole; that no single dancer is more or less important than another; and that learning may be more conducive when teachers and students meet as equals.
Understanding the power of storytelling through dance was also a huge milestone in my journey to musical theater."
What must be noted is the highly tactile, descriptive language of dance Keats and Quanbeck have developed over the course of their professional dance careers. Words like "click," "drip," "lick," "peel," "slap" and "swipe" are all used to describe different dance movements or the intended visual message of a particular dance movement. They move their bodies accordingly: Keats will crook his knee out in a "flair" effect, while Quanbeck may glide her arms in wide, expansive stretches.
Memory Lane
While taking classes and performing at UCI, Keats worked for the Walt Disney Company, dancing in parades and the nighttime show Fantasmic! at Disneyland. Initially intending to pursue a career in concert dance, Keats ended up falling in love with theater after moving to New York.
Keats also found success in both regional theater—performing at places like The MUNY and the La Jolla Playhouse—and on Broadway, performing in Cirque du Soleil's Paramour and Jimmy Buffett's Escape to Margaritaville, both as an assistant dance captain and swing.
Quanbeck, too, recalls her time at UCI and work with Professor Emeritus Donald McKayle — who passed in 2018 — as influential in broadening her perception of dance, all the while setting out on a long-term career: "I had my mind opened to new ideas and new ways of thinking while at CTSA." said Quanbeck. "Working with Mr. McKayle and understanding the power of storytelling through dance was also a huge milestone in my journey to musical theater."
In just weeks after graduating from UCI, Quanbeck joined Wicked on Broadway. "It was a pretty crazy transition. I went right into tour life—my stuff in a few suitcases and a trunk," said Quanbeck. "I had new things to do and learn, new places to explore on tour, and I loved the show."
Quanbeck has also performed in the national tour of Dirty Dancing as the dance captain, assistant choreographer and swing. On Broadway, she has performed in Charlie and the Chocolate Factory and The Cher Show.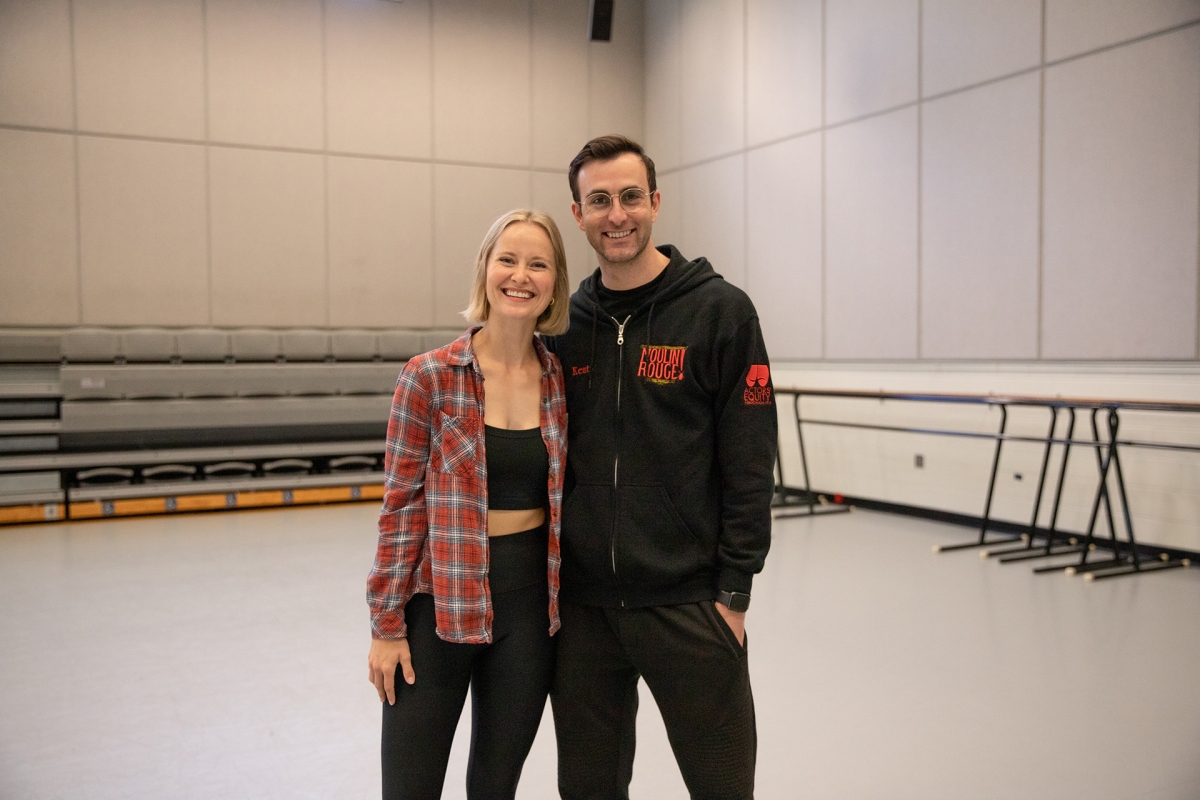 Image: Amy Quanbeck and Justin Keats. (Photo: Emily Zheng)
Homecoming
With such vibrant and varied careers in the dance world, the significance of both Keats and Quanbeck returning to teach in the same dance studio they once learned in seems self-evident (if not, serendipitous: Keats mentioned how he used to stand in the same square of sun that shone through one of the studio's windows that very morning): "returning feels like an opportunity to give back and meet the next group of alumni and, hopefully, future colleagues," said Keats. "Alumni that came back and taught me when I was at school became resources for me as I made the transition to New York, and I would love to be a continuation of that tradition."
Everyone's journey is different, and everyone's idea of success is different. Find what makes you feel successful and go for it.
Both Keats and Quanbeck emphasized the importance of building relationships with fellow students, alumni, faculty or outside professional contacts in the dance community.
"I loved my professors and time at UCI. I learned so much being exposed to new styles, teachers and ideas, and I am excited to be a part of that. It is even more special to go back with Keats — a best friend that I met in college and someone that I haven't worked with professionally until this job," said Quanbeck.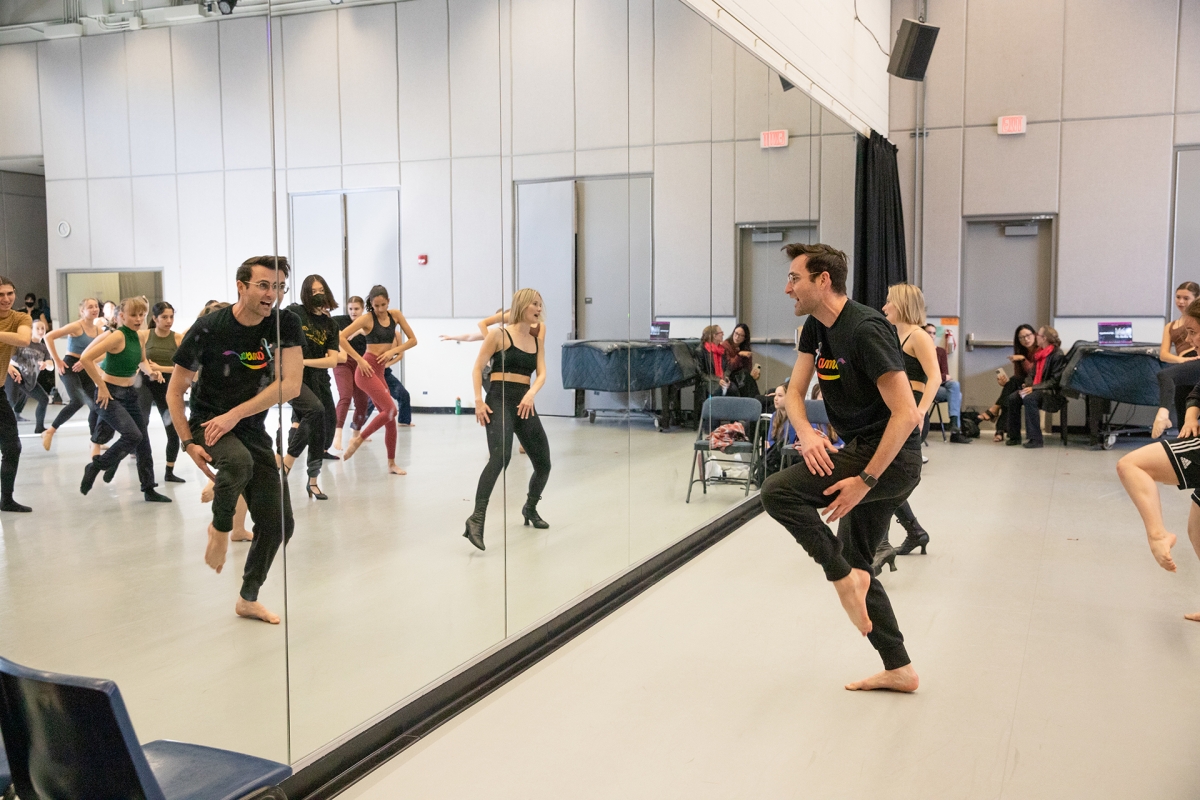 Image: Justin Keats and Amy Quanbeck lead a class of UCI students through dance choreography in the William J Gillespie dance studios at the Claire Trevor Scholl of the Arts. (Photo: Emily Zheng)
Learning New Skills
In the studio, the pair led the class through warm-up exercises set to Lady Gaga's "Bad Romance" and Eurythmics' "Sweet Dreams (Are Made of This)." Students were challenged to sing and dance at the same time — a new feat for some, but crucial to performing in musical theater. When the song reappeared in the choreography, dancers had to focus on maintaining the lyrical "rah, rah, rah-ah-ah" cadence of "Bad Romance" while performing Tayeh's dynamic, bold choreography.
While teaching Tayeh's choreography, Quanbeck and Keats explained how they approach the movement while performing it onstage. Quanbeck emphasized how important it is to apply different dance techniques — ballet, jazz, modern, hip-hop — to one's own individual dance style when approaching choreography, while Keats described how he will make physical accommodations to account for smaller or larger dance spaces. He often asks himself, "How big or small can I learn this?"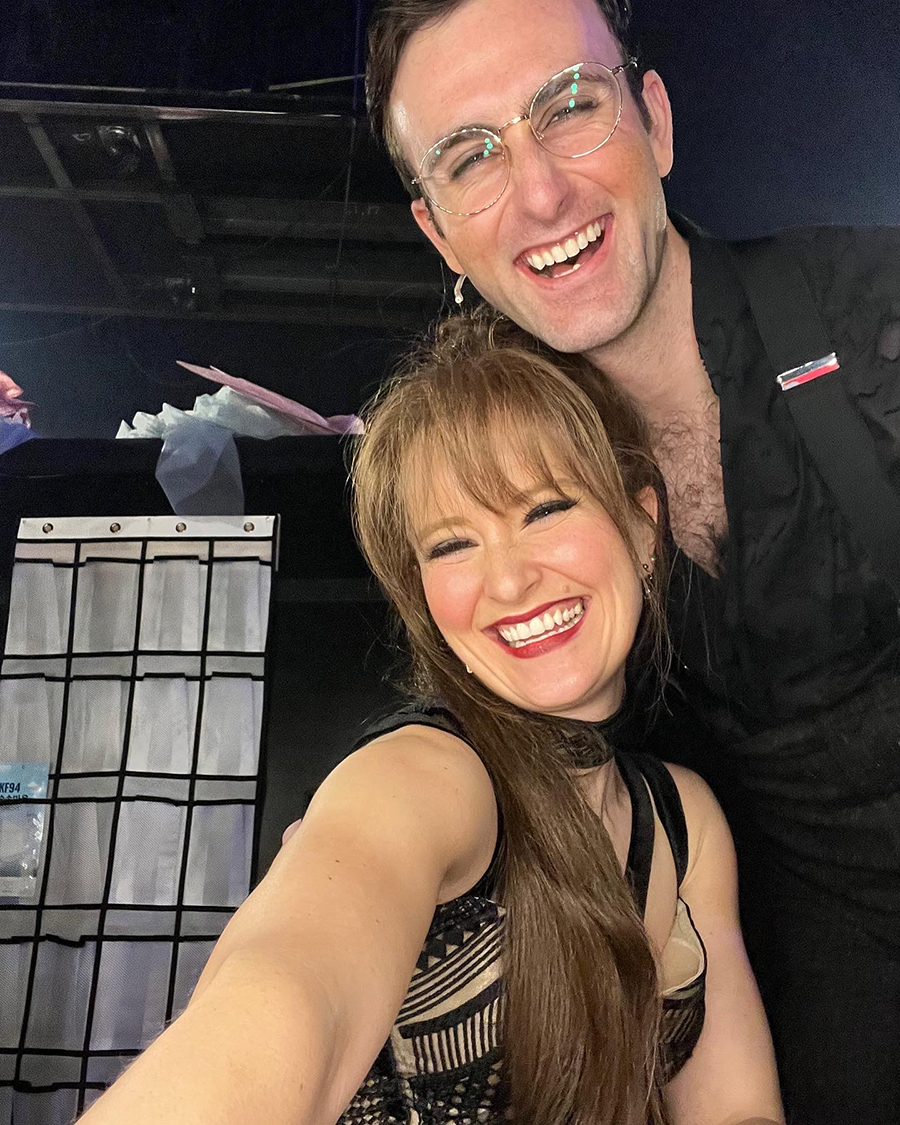 In learning the choreography for Moulin Rouge, dancers were asked to reverse certain sections of the choreography to perform it in the opposite direction—a testament to the unique struggle that Keats and Quanbeck both experience as swing captains of national dance tours.
After the class, Keats and Quanbeck answered questions and advised students on how to make the most of their time at UCI — and how to best navigate the transition out of university and into professional dance life. Their combined advice felt both practical and professional.
"Be observant as you watch and learn from other people," said Quanbeck. "Challenge and trust yourself." Specifically, the two suggested that students try "being curious" about the directional qualities of the dancers around them — in what, for some, may be a perceptual shift in how dancers consider themselves as occupying physical space.
Additionally, students were prompted to consider their bodies as made up of three distinct but connected parts: one dancing body; one professional body; and one historical body, each aware of its own capabilities and contributions to the larger project of dance.
"Everyone's journey is different, and everyone's idea of success is different. Find what makes you feel successful and go for it," said Keats. "If you are at all interested in musical theater, start taking voice lessons now and stick with them — gone are the days where you only have to dance."
To this day, Keats and Quanbeck dedicate much of their time teaching and continue to offer dance master classes, virtual dance lessons, and workshops.
In hosting the return of Keats and Quanbeck, CTSA's Department of Dance has successfully inspired and prepared the next generation of dance professionals.
Image: Amy Quanbeck and Justin Keats on tour for Moulin Rouge! The Musical. (Photo: Courtesy of Justin Keats and Amy Quanbeck)
---
Learn more about upcoming performances and more dance alumni on our website at dance.arts.uci.edu.
Please visit our secure direct giving page and make a gift to support Dance today!
CONNECT - Winter 2023