Choreographing the Future
Dance department chair and UCI alumna Molly Lynch prepares students for long, diverse careers
By Christine Byrd
Molly Lynch wants UCI dance students to envision careers beyond professional dancer — from choreographer to artistic director, and nonprofit administrator to teacher.  As professor and chair of the dance department, she's the ideal person to help them chart these paths: She's played all of these roles in her own multifaceted career.
"Molly's sort of a tiny little thing and she does everything quietly; yet she's a giant," says Sally Anne Sheridan, an arts advocate who has known Lynch for four decades. "Her impact on dance in Orange County is really greater than anybody gives her credit for."
Growing up in Orange County, Lynch studied dance and was an avid sailor. Lynch was drawn to UCI's highly disciplined dance program, which she describes as being run "with an iron fist" by nationally acclaimed dancer and choreographer Eugene Loring in the 1970s. Plus, each year, American Ballet Theatre's Antony Tudor would come to UCI to  teach. Studying dance with these greats "was like heaven" for Lynch.
Midway through her time at UCI, Lynch received a full scholarship to study with the Joffrey Ballet. She went on to dance professionally in New York City and with the Louisville Ballet before returning to Irvine to earn her bachelor's degree  in 1979 and master's in dance in 1981. Interested in careers beyond dancer and teacher, Lynch became an administrator with the Orange County Arts Alliance (now Arts Orange County), and later an event planner and fundraiser for South Coast Repertory.
When Ballet Pacifica founder and director, Lila Zali, retired in 1988, she tapped her former student Lynch as her successor. That began a whirlwind 16-year adventure during which Lynch served as both artistic and executive director, growing the dance company from five part-time dancers to 15 full-time dancers with an annual operating budget over $1.5 million.
The regional company filled a niche in the local dance community between pre-professional schools that put on dance recitals and the big-name touring companies that came to perform full-length story ballets like Swan Lake.
"She's an extremely well organized and effective administrator and executive; she did an absolutely wonderful job with Ballet Pacifica," says Sheridan, who was Irvine's mayor when Ballet Pacifica's home base moved from Laguna Beach to the newly opened Irvine Barclay Theatre in 1990. "She made the ballet into a conservatory of dance with only the very, very best teachers."
Pioneering Choreography
When Lynch left the company and joined the faculty at UCI, she launched the National Choreographers Initiative, a spinoff of a program she had established at Ballet Pacifica.
Each year, Lynch invites emerging and established choreographers from around the country to come to Irvine for three weeks to develop new creations with professional dancers. Then, professional dancers perform their work — even if unfinished — at the Barclay Theatre. With audience feedback, the artists can later refine their work and sell it to a dance company.
"My work with NCI keeps me informed and involved with presenting and producing dance, which is where my heart is," says Lynch. "It became nationally important because we were bringing together dancers and choreographers from all over to come together in this creative laboratory, not to build a repertory for a company, but to support the dance community in developing new works."
One of the dancers who has worked with Lynch for years is Gillian Finley '89, who danced professionally for Ballet Pacifica before serving as its school director under Lynch.
"Molly is truly a pioneer in the realm of encouraging, developing and supporting new choreography," says Finley, who now teaches ballet and pilates at the University of Southern California. "Molly herself has created some beautiful work. Her creative process is a lot like her administrative process: thoughtful and organized with tremendous attention to detail."
New Era
Lynch has always been "the calm in the eye of the storm," says Finley — which is especially useful in the year since the COVID-19 pandemic upended the arts world. This year is the first time Dance Visions, UCI's  annual showcase of new choreography by faculty, has been performed exclusively for remote audiences.
"Choreographing with dancers over Zoom is a whole different way of working, but it's just another way of being creative, and that feels wonderful," says Lynch, who is the co-artistic director for the show and creating a new work as well. "In rehearsals with dancers, we look at the space they're dancing in and might say, 'There's a couch over there, let's use that.'"
The shift to online performances also opened up the dance department to new viewers all around the world. For the 2021 Dance Visions in February, viewers reserved a free ticket online to enjoy streaming pre-recorded performances, and a Q & A with the choreographers following each performance.
"Eventually, we will get back to live performances because people do want to be a part of a community, but right now, we're learning a lot about how we can reach new and different audiences."
Diverse Futures
Lynch staunchly supports maintaining the conservatory model of dance that first attracted her to UCI as a student. Yet, she has also helped usher in changes to modernize the program and keep up with changes in the art form. That includes recently hiring the first two dance faculty focused on hip-hop.
"Dancers get the best of both worlds with our conservatory model housed within a research university," says Lynch, who minored in math when she was a student. "That's what stood out about UCI when I went to school here, and it's still what I think is great about it now."
Alumni of UCI's dance program have gone on to dance professionally with Cirque du Soleil, MOMIX, Nashville Ballet, Hubbard Street and more. But others have gone on to careers in arts marketing, arts journalism, stage lighting or choreography. Lynch insists on introducing students to the full range of careers available to them and, in the senior seminar she teaches, students are required to develop 5- and 10-year career plans.
"I want to open their eyes to the myriad of things they can do with a dance degree: choreography, history, writing about dance, arts management, running an organization, physical therapy," she says. "We give the students a good broad dance education in terms of kinesiology, music and Laban, but also open their mind to other things they can do, stay in dance and be fulfilled by dance, not just by being a dancer, which can be a relatively short career.
"It's about giving students a full and broad education that encompasses all the different areas of dance and being able to allow them to make those choices within that," she adds. "I try to pass on to my students all that I've learned and experienced and stress that it is a journey."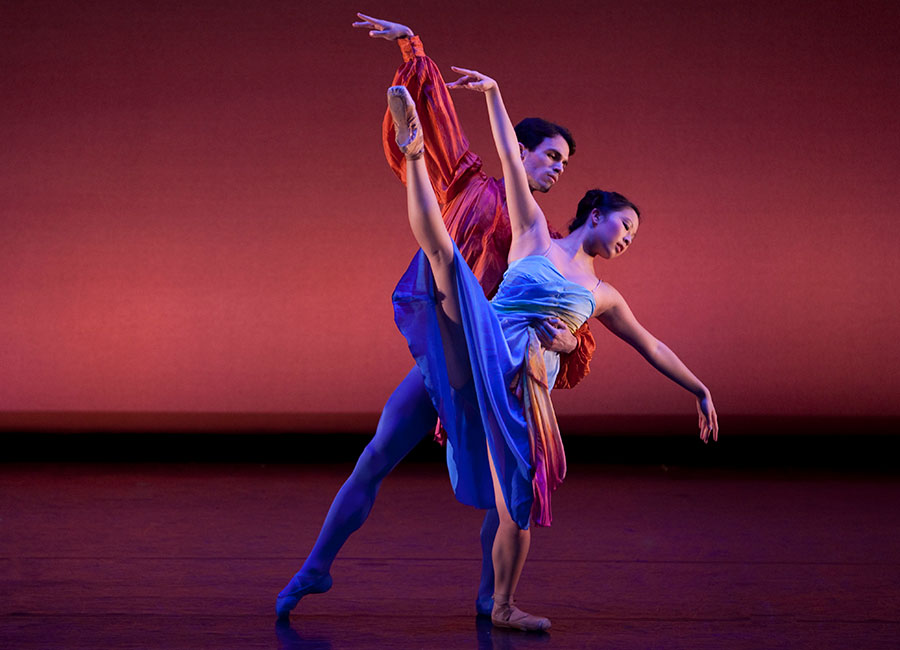 Image: Molly Lynch's choreography "Elgar's Serenade," which premiered during the 2011 performance of Dance Visions, the annual faculty showcase concert.(Photo by Rose Eichenbaum)
---
To learn more about Professor Molly Lynch and the faculty in the Department of Dance, visit dance.arts.uci..edu.
Please visit our secure direct giving page and make a gift to support Dance today!
CONNECT - Spring 2021