Community Canvas
Forming connections is critical to school's mission of forging arts students' pathways to UCI and beyond
The four out-of-state guests sat in a classroom at the Claire Trevor School of the Arts, their eyes fixed on a large monitor.
The senior high school students from a remote Indian reservation in Montana watched as UCI student Karen He, in Northern California during spring break, logged onto Zoom to share with them her passion: K-pop, the global phenomenon that is Korean popular music.
In return, Northern Cheyenne Indian Reservation resident Shandiin Kaline, in powwow regalia of colorful dress and beaded accessories and jingle cones, performed a native dance to recorded drumming and singing.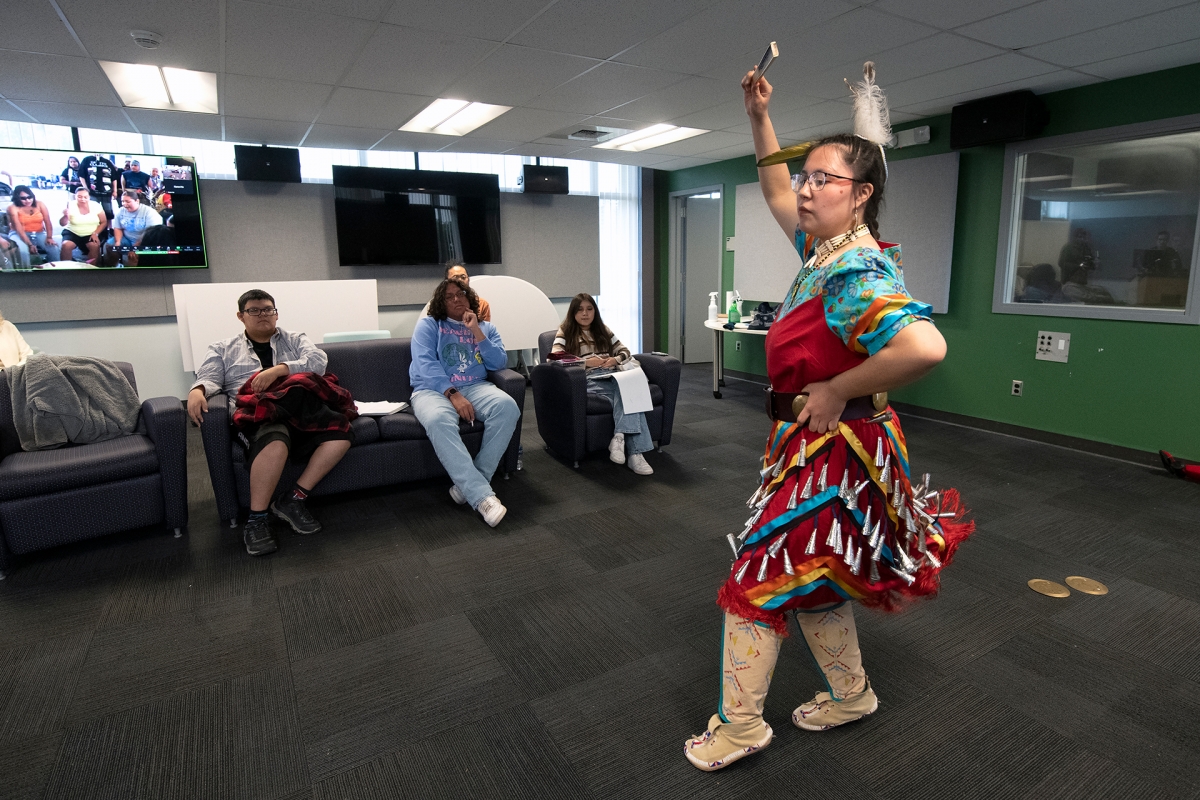 Image: Lame Deer High School student Shandiin Kaline, from the Northern Cheyenne Indian Reservation in Montana, demonstrates freestyle Jingle Dress Dance at CTSA. (Steve Zylius/UCI)
Observing this exchange between He, a member of KKAP UCI – a dance team dedicated to K-pop – and Kaline was UCI professor of music Kojiro Umezaki.
For over a decade, Umezaki, who grew up in Tokyo and today is an esteemed player of the shakuhachi, a traditional Japanese bamboo flute, has traveled far and wide to use the arts to foster connections between cultures.
The students who came to UCI in late March – Kaline, Kaleb Mason, Burton Tallwhiteman and Cheyenne Hiwalker – were in Southern California for a few days to record a music video for a song they and others at their school had written, with lyrics in English and Cheyenne.
"It was a great moment," says Umezaki, a faculty member in the integrated composition, improvisation and technology Ph.D. program who has been visiting Lame Deer High School students since 2012 to work with them on projects that incorporate music, dance and storytelling.
The virtual gathering also was a vivid example of a top priority of Tiffany López, who is closing in on her first year as dean of the Claire Trevor School of the Arts: solidifying and expanding UCI's connections to local neighborhoods and developing career pathways for arts students.
"We're the front porch of the university," says López, a dramaturg with 30 years of experience in California public education and professional theater. "We're the conduit to connecting communities."
A first-generation Chicana college student who left an abusive home at age 15 and discovered how powerful the arts can be in breaking down barriers and forging meaningful connections, López says she's employing a focused sense of intentionality to take CTSA's bridge building to the next level.
"I'm not reinventing the wheel," she says. "I'm just supercharging the vehicle."
Video: Watch the video created by the collaboration with the students from Lame Deer, featuring Shandiin Kaline, Kaleb Mason, Burton Tallwhiteman and Cheyenne Hiwalker.
Local Ties
Orange County native and versatile theater artist Sara Guerrero has known López for years. Both are founding members of the Latinx Theatre Alliance/Los Angeles, and López brought Guerrero to UC Riverside to guest-direct plays when López was the Tomás Rivera Endowed chair of UCR's Department of Theatre, Film and Digital Production.
A UCR faculty member from 1995 to 2016, López also served as a dramaturg for Guerrero's Breath of Fire Latina Theater Ensemble, the only Latina theater company in Orange County.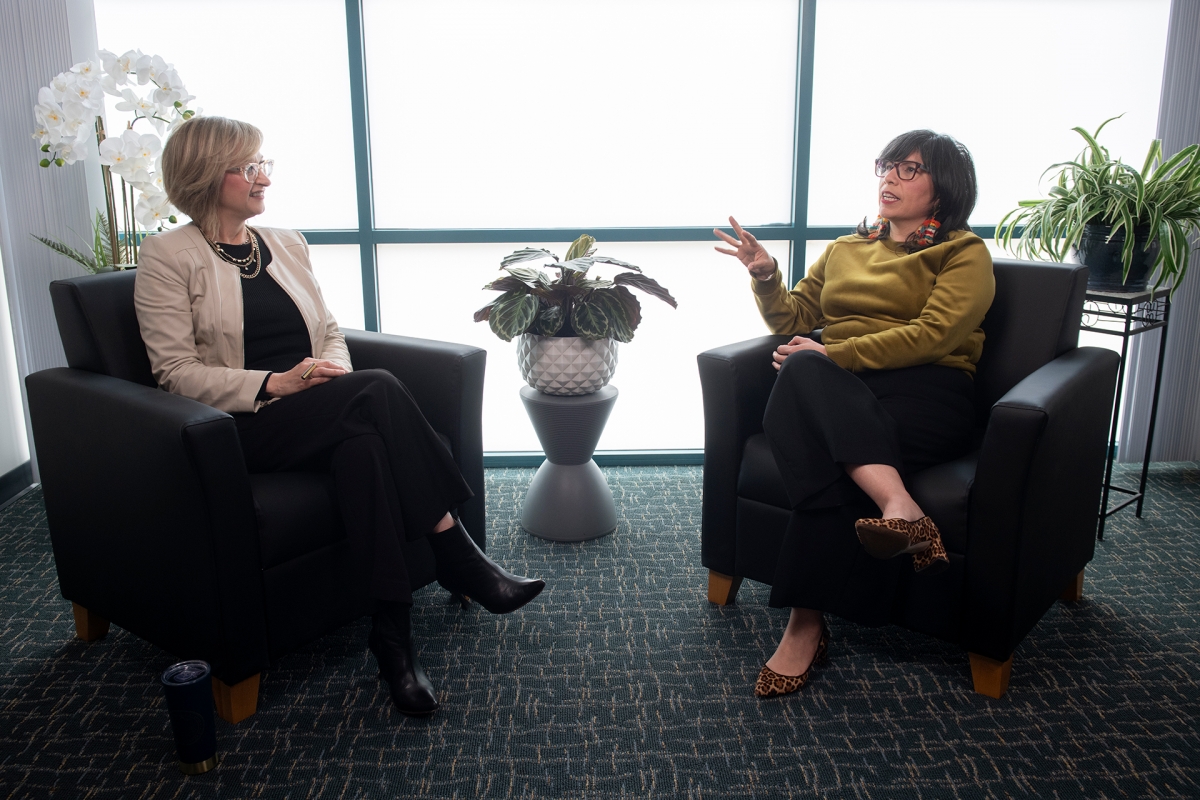 Image: Orange County theater artist Sara Guerrero (right) and CTSA dean Tiffany López have worked together for years and are both founding members of the Latinx Theatre Alliance/Los Angeles. (Steve Zylius/UCI)
Recently, Guerrero was at UCI guest-directing the Department of Drama's spring production of "The Sweetheart Deal," about an underground political newspaper during the United Farm Workers movement.
She also has a longstanding relationship with CTSA's Brown Bag Theater Company, created in 2012 to expand Latino theater at UCI.
"Our students have the opportunity to work with a professional artist, and they also have a contact in the local arts community to explore other opportunities," López says of Guerrero, who wrote her first play in fifth grade and graduated from the California Institute of the Arts.
"I know that Tiffany sees what I do in terms of building bridges," Guerrero says. "When I'm inserted into an institute of education, it's because of the experience I bring, my sense of community and my connections."
"The Sweetheart Deal" marked Guerrero's first guest-directing stint at UCI.
She and López, a former board member of Breath of Fire, which was formed in 2007, are discussing ways to strengthen ties.
"To partner Breath of Fire more with UCI," Guerrero says, "we must find ways to work together in our community. I see the opportunity to create threads. I really try to be a resource."
Adds Guerrero, who teaches directing at Cal State Long Beach and is a resident artist at Cal State Fullerton's Grand Central Art Center: "Making a phone call and advocating for someone is part of making a community. I'm excited to be engaged on a more formal level with UCI, and I see a lot of opportunities. It's very exciting to imagine what this constellation could look like."
Being the Bridge
Sakina Ibrahim, who graduated from UCI with an M.F.A. in dance in 2014, has worked with CTSA and UCI's Henry Samueli School of Engineering to plant seeds in underserved middle school students to steer them on the path toward college.
As the partnerships and performance coordinator at the Orange County Educational Arts Academy, a Title I charter school in Santa Ana that supports low-income students, Ibrahim works with UCI outreach professionals to help OCEAA students access opportunities at UCI, as well as to bring UCI students to OCEAA to facilitate computer science and arts programs.
Recently, OCEAA youth toured CTSA to meet students and faculty from Santa Ana.
"The students were very inspired and felt like cool college kids," says Ibrahim, who, like López, is a first-generation college graduate.
"Access, equity and visibility are really important," adds Ibrahim, who also owns a wellness company, Stretch & Pray, through which she works with corporate clients to enhance diversity, equity and inclusion through arts and wellness, and a nonprofit providing arts education for marginalized youth, Dance Arts Academy.
"It's important to understand the processes that must happen in order for these young people to see what's possible for their future – that things are possible," she says. "When you see someone who looks like you and who understands the challenges you may experience and, culturally, what you may have experienced, it's easier to see yourself in a position of success."
Ibrahim works closely with CTSA outreach programs director Megan Belmonte; UCI professor of dance S. Ama Wray, one of her mentors; Leyla Riley and Marvin Maldonado of The Henry Samueli School of Engineering; and Aaron Flores, assistant director of fan experience and community outreach for UCI Athletics.
A former professor of dance at Cypress College, Ibrahim sees herself as an ideal facilitator between UCI and local stakeholders.
"People with a higher-level education like me should always reach back into the community, because only we can create bridges of opportunity," she says. "Because I went to UCI, my students get to benefit and have access. I know how to navigate the system."
Ibrahim adds: "It's important that as we enjoy personal successes in our career, we must not forget the young people who are behind us who need a pathway toward success created for them to follow."
Laying the Groundwork
Since López began her duties as CTSA dean on July 1, 2022, her calendar has been packed with meetings at Orange County arts organizations.
One of her first appointments was with the leaders of O.C. Music & Dance, an Irvine-based, nonprofit arts school. López noticed a wall inside its headquarters that listed community partners. One of them was CTSA.
"That ignited me to think about how we can be more intentional in what our partnership means and what it's leading to," she says.
One way is by creating a teaching artists program that embeds UCI students at arts organizations. "Putting really incredible teaching artists into the community has an impact," López says.
She's formalizing a teaching artistry development program with Orange County arts organizations in which UCI students would work with professionals to learn from their experiences while honing their own skills.
"Where we benefit is helping us understand how to shape our students in the moment, so we know what tools they need to hit the ground running and to be of service," López says.
The dean sits on the community advisory board of Pacific Symphony and is in discussions with the Orange County-based orchestra to have UCI students rehearse side-by-side with Pacific Symphony professionals.
In another example, López is talking with Cheryll and Richard Ruszat, founding co-chairs of the Claire Trevor Society and longtime UCI supporters and leaders, about having UCI teaching artists connect with preschool and elementary Montessori students. The idea is to introduce children to instruments to set them up properly for professional growth and get them on the path to formal music studies.
CTSA also has a longstanding program, Creative Connections, in which UCI students are assigned to classes of K-12 students at schools to enhance their arts education. The youngsters benefit from the arts instruction while CTSA students build their teaching skills.
"Our students want their education to have an impact," López says, "and community engagement is a way for them to immediately see how they can have an impact."
The arts are one of the ways in which we can mobilize our imaginations to think about how we can get to know each other more and be curious and interested – and therefore open up pathways between the forces that create boundaries between us all the time. - Kojiro Umezaki, professor of music
She adds: "At UCI, we're providing 'creative wayfinding' for our students. When students come here, they don't just spend time with their professors. They learn about our partners and how to launch into the community as teaching artists and learn about the faculty members here who are leading these efforts."
Mobilizing Imaginations
Umezaki came to UCI in 2008 after working as a freelance shakuhachi performer in Montreal and New York, drawn by the uniqueness of the integrated composition, improvisation and technology Ph.D. program. He uses modern technology to blend older and new practices.
Since 2012, Umezaki has connected with over 100 students at Lame Deer High School through a program started by Turnaround Arts – an effort that began as a two-year White House initiative to boost arts education in historically underperforming schools.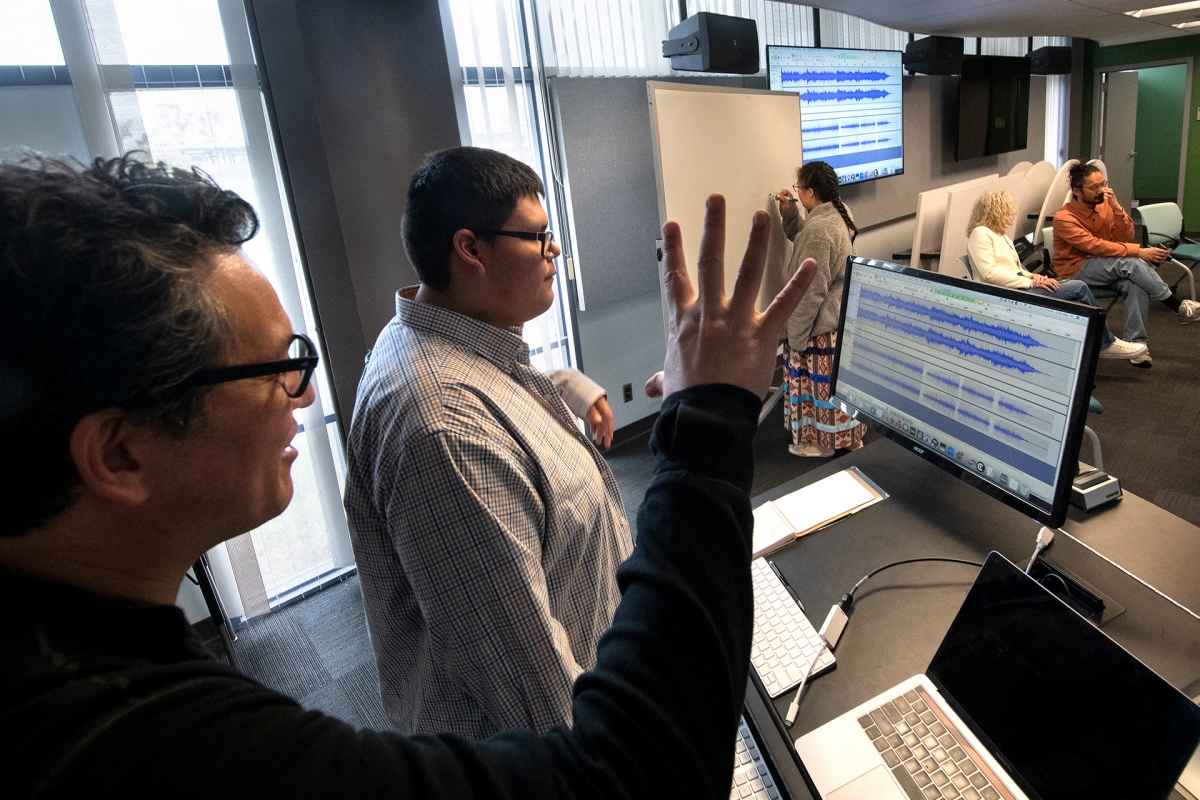 Image: UCI music professor Kojiro Umezaki and Lame Deer High School student Kaleb Mason edit an audio recording of Kaline's dance. (Steve Zylius/UCI)
Umezaki has kept it up through his involvement with the nonprofit musical collective Silkroad, initiated by cellist Yo-Yo Ma in 1998, and now also through UCI. He's convinced of the power of consistency and keeping communication channels open with such students as those from Lame Deer High School over longer periods of time.
"The arts are one of the ways in which we can mobilize our imaginations to think about how we can get to know each other more and be curious and interested – and therefore open up pathways between the forces that create boundaries between us all the time," he says.
After the K-pop/powwow exchange, He and Kaline discussed how the powwow dance motion is circular, while K-pop grew out of music videos, with performers typically facing or moving toward the camera or audience.
"Their exchange reminded me of the kind of biases – in this case the heavily camera-facing orientation and movement – many popular artists reinforce," Umezaki says. "I think of how the tools and technologies for creating media-based works might be different if other music and dance practices were historically given more consideration."
One of the things the arts can do when it comes to reaching across boundaries is to really encourage participants to flex their imaginations, he notes.
"The arts play a critical role in forming connections between industry and academic research and so forth, but they also cultivate the imagination to pursue what's really possible," Umezaki says. "It's a no-brainer for Dean López to think about all that UCI arts can offer to build bridges with diverse and often isolated communities, and she's making that happen."