The latest volume of Dance Major Journal is now available
Dance Major Journal 2020 is out!
The 2020 Edition of Dance Major Journal "Dancing Still Goes On," is now online, with timely writing by dance majors and graduate choreographers.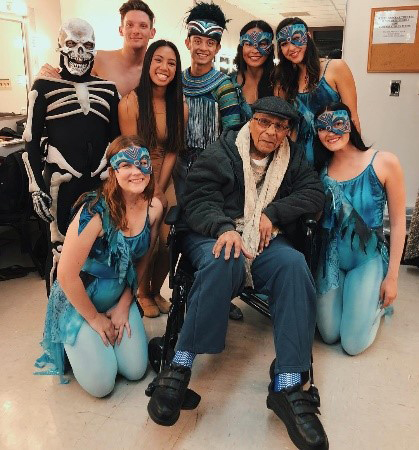 Donald McKayle with his last Etude Ensemble, author Sadie Sandoval at right. McKayle's influence goes on, with the essay, "Dear Mr. McKayle."
Also read: "Dear Dance, I think we need to break up," by Anna Olsen. You will laugh, you will cry, you will get a dancer's eye-view of what dance has to offer, and how it thrives, COVID-era or not.
This DMJ also issue includes:
Brandye Lee's very timely, "Brown legs, pink tights"
How Tiler Peck can improve your self-esteem on Instagram, by Brittany Woo
Waeli Wang's essay on making your dance count in this era of divisive politics.
How dance relates to mourning: Aliya Kerimujiang is poetic on the topic
Pathways taken by two L.A. professional dancers; how one boy got his mother to drop him off at dance class, not baseball practice; how "work-study" agreements can make dance available to everyone; whether or not it's all worth it; and how to make the most of taking dance in the new zoom universe.