Tapping Into a New Era
By Christine Byrd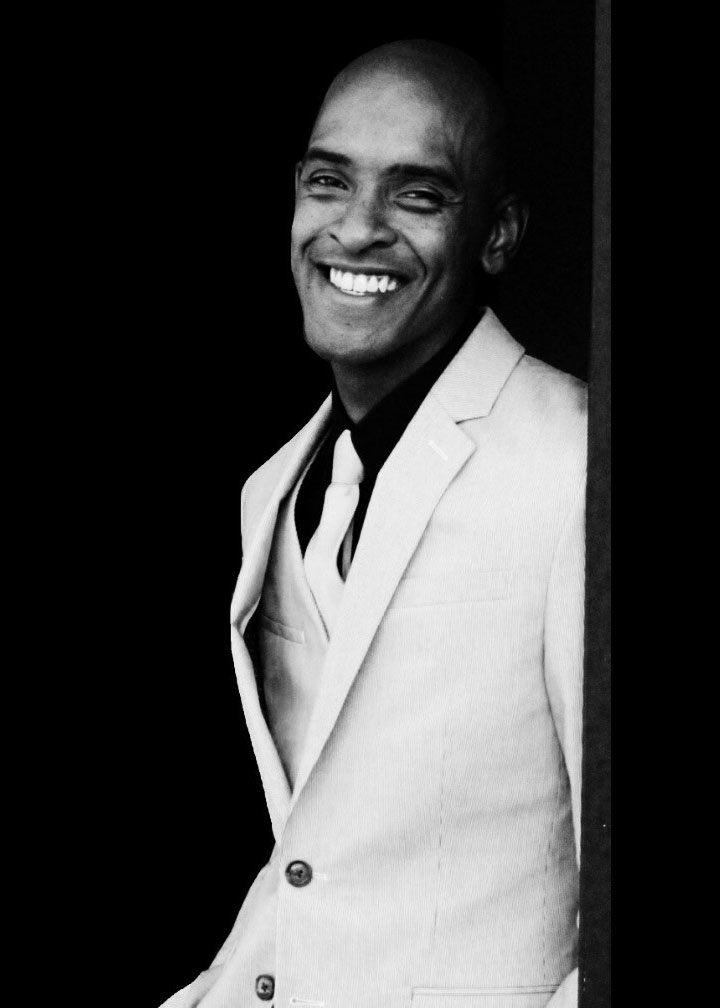 In his dance, "Waiting for Amazon," Carl "Dougie" Sanders, M.F.A. '21, moves in his living room, expressing the exhausting boredom of being stuck at home, and the angsty anticipation before a parcel delivery. We may not move quite like Sanders, but we know exactly what he's feeling.
It's not just the subject of the dance, but the very medium through which we view it — us watching on our computer screens or smartphones as he dances at home — that reflects our reality in the pandemic era.
"You think, boom, did he just do that? Saunter, saunter, pause, and zap, he philosophizes!" says Jennifer Fisher, professor of dance. "It's like watching a smooth jazz riff, then finding the meaning of life said out loud at the end."
Long before he came to UCI, Sanders had co-choreographed for Mya, Tyrese and Usher, as well as professional sports dance teams including the Atlanta Hawks Dancers. He danced his way through off-Broadway shows, national competitions, feature films, TV shows, commercials and, more recently, into the hearts of his fellow Anteaters.
"Dougie, like a lot of our M.F.A. students, came to UCI with a lot of embodied knowledge and professional experience — he's already choreographed a popular tap piece here that drew in a lot of audiences," says Fisher. "He's an expert, also funny, goodhearted, generous. What's not to like?"
Dance Styles
Sanders, who grew up in Atlanta, was around 8 years old when he attended his older sister's dance recital and saw a boy close to his age perform a tap number. He knew instinctively that he could do that, too. Within a year, he was tapping competitively, and soon working his way into a performing arts high school across town.
Sanders earned a spot in the high school's touring troupe, which meant weekend trips all over the world, performing in Paris and Greece.
"It really opened my eyes to a lot of different cultures and things I wanted to be a part of, seeing their art that way," he says.
When he was just 15, he started choreographing world tour shows for artists including Raven-Symoné, who became a lifelong friend, as well as other hip-hop, R&B, rap and pop artists including The Spice Girls. While he flourished creating dances across genres, tap remained his first and truest love.  
---
"It's like watching a smooth jazz riff, then finding
the meaning of life said out loud at the end."
---
He was so exceptionally skilled, that by the time he enrolled as a college freshman at University of the Arts in Philadelphia, he was given a tap class to teach. It was during this time that his stage name "Dougie Styles" took flight, which he uses for his social media handles.
After earning his B.F.A., Sanders danced professionally with companies including the Philadelphia-based Koresh Dance Company, where he worked with legendary choreographers including Donald Byrd. He also worked with the world renowned Debbie Allen and Hinton Battle on several projects.
But the desire to earn an M.F.A. and even a Ph.D. lingered in the back of his mind.
Tap Technology
In 2019, Sanders chose to pursue his M.F.A. at UCI because of the school's emphasis on incorporating technology with dance.
"I was trying on my own to find ways to connect the two: my love for dance and creation and innovation and pushing technology and seeing how that can influence the art," he says. "That's where I wanted my future to go."
And that's where it headed. When Sanders agreed to create a tap routine for New Slate, Claire Trevor School of the Arts' annual showcase for M.F.A. students' choreography, he quickly ran into a problem that would test his design and innovation skills.
The school had just installed a new marley floor, a vinyl flooring preferred by almost every kind of dancer except for tap. Not only does the PVC material not produce the same quality tapping sound, but its smooth surface gets scuffed by the metal taps.
Leveraging his father-in-law's carpentry skills, Sanders developed a portable tap floor in 12 pieces, and a dolly system to transport them.
"It turned out to be great for us because an actual tap community kind of came together at UCI out of that experience," he says. He created the Tap Symphony Orchestra at UCI to "elaborate on what it meant to be an orchestra, and how orchestras are a collection of many different instruments of tone that come together to create, organize music that touches the soul."
The tap floors proved popular, and were brought out again at the Claire Trevor Society Inaugural Celebration, where individual dancers were able to dig, flap and shuffle between tables of delighted dinner guests. Sanders hints the tap floors may make an encore appearance for a new tap number in New Slate 2020.
But Sanders has plans for even bigger innovations to make tap dancing more accessible. Through his arts tech startup company Stagebow, he's currently working with a sneaker company to develop a street shoe that could leverage technology to produce those delightfully iconic tap sounds.
Image: Carl "Dougie" Sanders's tap choreography "Lampyridae" performed by undergraduate dance students at New Slate (2019), Claire Trevor School of the Arts' annual showcase for M.F.A. students' choreography.
Screen Dancing
Sanders has been recording his screen dancing for years — with the latest tech gear of the times by his side — but at CTSA he took a screen dance course that helped him refine his process.
"When dealing with screen dance, you're focusing the eye of your viewers, you're instructing them where to look and how to feel about it," he says. "All the same principles that go into creating the space on stage, such as lighting and positioning, transitions, color correction and depth of field, are part of screen dance, too."
Although Sanders had directed several screen dances by the time the campus closed in March due to the coronavirus, screen dance suddenly became the primary method for sharing his work.
His short-film style dance numbers, including "Waiting for Amazon," became popular views on CTSA's Instagram in the spring, and Sanders sees intriguing opportunities for dance in the coronavirus era.
"I've always been a fan of musical theater because it escaped from the theater box," says Sanders. "Dance needs to happen outside the studio and the theater, too."
"Dance represents life. It needs to be as free-flowing and moving and life itself," he continues. "So I'm happy for this era when it comes to creativity because it's forcing everyone to think of their art in more of a pedestrian way, in more of a natural way."
That idea is at the heart of the theory of dance that Sanders is developing, called Dachiology, which is part of his effort to contribute his own philosophical insights to the art of dance. What he describes as dialogue in motion, Dachiology is the art of communicating through rhythmic movement. Not unlike telling the story of waiting for an Amazon delivery during the pandemic.
"You're forced to be creative right now," he says. "People are doing some phenomenal things during this period in time and I'm inspired by that."
Follow Carl "Dougie" Sanders on Instagram at @d.styles317. Learn more about the department of dance, upcoming performances, and student research at dance.arts.uci.edu.
Please visit our secure direct giving page and make a gift to support Dance today!
CONNECT - Fall 2020