Zooming to UCI
Artists from around the world paid virtual visits to UCI students, opening new windows of opportunity
By Christine Byrd
When music major Cassandra Leisher asked the New York Philharmonic's Ryan Roberts, a classical French horn and oboe player, how he calms pre-audition nerves, she was surprised by his answer: He goes into a practice room, puts in his headphones, and dances to Ariana Grande songs.
Leisher joined Zoom sessions with four renowned musicians who treated UCI students to a mix of performances, personal stories, and Q&A.
"Sitting virtually in a room with someone makes the experience more 3D, and these sessions helped me feel connected," says Leisher, who is a third-year and a transfer student in vocal performance. "With a platform like this, it's accessible to people all over the world, so there's a bigger pool of people you can get in contact with."
During the pandemic, scores of artists from around the world visited UCI students virtually, from choreographer Christopher Wheeldon to makeup artist Joe Dulude II and costume designer Ann Hould-Ward to artist Paul Chan. Some taught master classes to undergraduates, others toured graduate students' art studios, and many answered questions directly from students and international audience members who also joined the conversations remotely.
The music department hosted another New York Philharmonic musician in addition to Roberts. Clarinetist Anthony McGill, the philharmonic's first and only Black musician, visited UCI virtually. McGill's rendition of America the Beautiful went viral with the hashtag #TakeTwoKnees during the Black Lives Matter protests in the summer of 2020. In addition, Grant Gershon, the conductor of the Los Angeles Master Chorale, spoke about how his organization had pivoted in the pandemic to share music with virtual audiences. Topping it all off, five-time Grammy winner Billy Childs treated students to a jazz piano concert and answered questions about his daily creative routine.
"It was incredibly inspirational," says Stephen Tucker, the Robert and Marjorie Rawlins Chair of Music. "Even when we start meeting face to face, it would be nice to have somebody talk to the students from afar."
International Emphasis
Zoom also provided an international reach ideally suited to the Global Perspectives and Artistic Practice series, which aims to bring celebrated artists who work across borders to visit campus.
Part of the CTSA's international initiative, which includes visiting  scholar exchanges and artistic partnerships with international universities, the lecture series kicked off in 2020 at the height of the pandemic. Six world-renowned artists, including Italian theater director Romeo Castellucci, Afro-Latinx choreographer Jes DeVille, and futurist and performance artist Adah Parris made public talks hosted by the CTSA. In each event, one or two faculty members interviewed the artist about their careers.
"Hearing each artist's diversity of approach, diversity of thinking, diversity of collaboration, made an enormous impact," says dance professor Lisa Naugle, who leads the international initiative. "It's really important that we expose more people to these diverse perspectives, and the webinar approach is ideal for that."
Dance
The webinar format made its mark on the dance department, as well. In lieu of traditional master classes, the department virtually hosted luminaries including Alonzo King, choreographer and founder of LINES Ballet in San Francisco; Glenn Edgerton, former artistic director of Hubbard Street Dance in Chicago; Al Blackstone, Broadway jazz choreographer; and Camille A. Brown, dancer and founder of the eponymous company.
"The professional dancers understand being on Zoom all the time because they are already doing it with their own companies," says Molly Lynch, professor and chair of dance. "The guests talked about how they are keeping morale up and staying inspired during this time, and gave students advice for auditioning online and keeping focused in the middle of a pandemic. It became a great inspiration to the students, to realize everybody is going through this, even founders of companies."
Second-year dance and biological sciences major Katie Waldvogel spent the year at her family's home near Chicago, using Zoom for her UCI courses and to connect with the guest artists.
"Glenn Edgerton's class really moved me and allowed me to introspectively think about where I could see myself in the dance world," says Waldvogel. "One of the biggest takeaways from his discussion was that dance is as mental as it is physical, and that one has to be in tune with both sides equally to perform and execute to the best of their abilities."
Waldvogel hopes that even when she is back at UCI and dancing on campus, online visitors will become part of the department's regular repertoire.
"This experience of online classes and guest speakers has opened a new door of how to utilize the Internet and maximize our learning from inspiring artists across the country," she says. "I absolutely cannot wait to see what the future holds for dance at UCI as we've obtained wonderful knowledge through this online experience that could be translated into in-studio practice."
It became a great inspiration to the students, to realize everybody is going through this, even founders of companies.
Art
Every winter, the art department's Visiting Artist Lecture Series schedules a steady flow of practicing artists to visit campus, tour graduate student studios, and host public talks.
"We aim for as much texture as possible within the group of visiting artists," says Amanda Ross-Ho, professor of studio arts, who coordinated the lecture series this year, with the aid of a graduate student committee. "It's about listening to the students. Who are they really excited to hear from? What leaders in the field do they want to be in conversation with? Then we make sure their excitement is represented within the series."
The annual series is a critical part of the art program in terms of educational aspects, networking with working artists, and helping to recruit the new class of M.F.A. students, who are invited to these public lectures.
"COVID-19 actually opened up really nice possibilities for us in this regard," says Ross-Ho. "Not only did students get to have dialogue with people outside of the university whom we would usually have a harder time bringing to campus because of budget, but it also brought a wide audience in to see what Irvine students are doing."
With funding from the art department and Illuminations, the chancellor's arts and culture initiative, the Visiting Artist Lecture Series hosted nine artists and attracted audience members from around the world this year. The first session, featuring the German-based art collective Slavs and Tatars, drew over 150 attendees from Paris, London, Tel Aviv and Asia — whereas the colloquium room where the event takes place in a normal year only holds 50.
"It's wonderful for our program to be on the radar internationally for having this really strong series, and for hosting critical conversations in the field," says Ross-Ho. "As everyone was adapting to virtual life, this wasn't just a compromise, it was a real success story."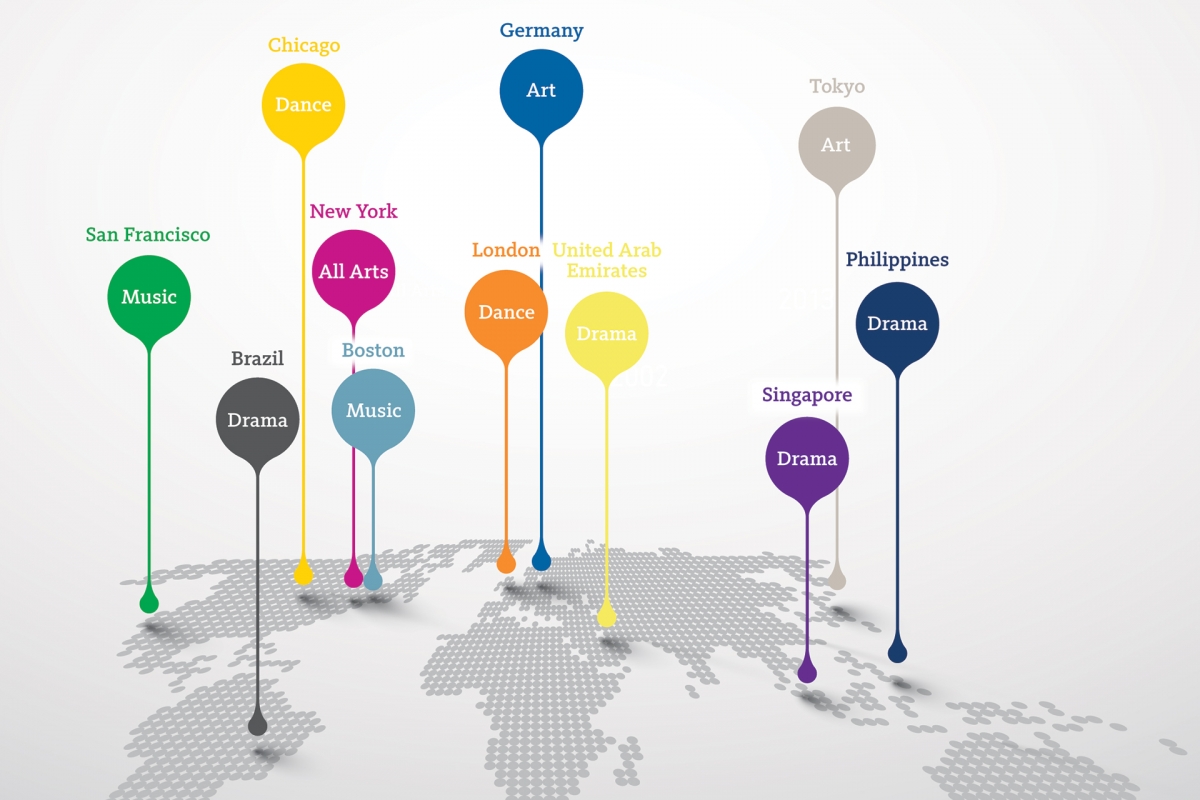 The above map indicates a few of the overall virtual visits from guest artists.
Drama (and Comedy)
While theaters have been dark, dozens of actors, stage managers, lighting and sound designers, makeup and costume artists have Zoomed into UCI classes — including artists from Broadway shows, Cirque du Soleil, The Walt Disney Company and TAIT, a major theater technology company.
"The upside is we can have these professionals from all over the world come to UCI this year. It's just amazing the caliber of people from all over the U.S. and some internationally who we would never have had the chance to get before," says Joel Veenstra, associate chair of production in the drama department.
It's just amazing the caliber of people from all over the U.S. and some internationally who we would never have had the chance to get before.
In addition to the convenience of Zoom, Veenstra points out financial benefits for both the school and the artists. Normally, a significant portion of the funding for a guest speaker might go toward travel and hotel costs.
"With Zoom, we can make our dollars go farther," he says. "And with the shutdown, we have so many professionals out of work, so it's great to support artists with a significant honorarium for their time, as well."
The department's Art & Innovation Series, which was open to the public, focused on cutting-edge technologies in theater production, not only pre-pandemic, but also new innovations, including lighting design for virtual events. Many courses throughout the department featured guest lecturers, as well. Veenstra mentored graduate stage manager Arielle Singer in teaching a class called "Who Am I Working With?" and they hosted more than 30 speakers representing the full spectrum of behind-the-scenes theater jobs.
"The speakers got to see our program and the caliber of our students. A number of people commented on how engaged our students are, and what high quality questions they asked," says Veenstra. "Our students and programs are gaining cachet with top professionals in the field."
In June, Veenstra and Improv Revolution, a 10-year-old student organization, will co-host their seventh annual Coup de Comedy Festival — after missing spring 2020. For the first time, the festival will be fully online allowing individuals to attend virtually wherever they are. UCI students are collaborating with the Global Improvisation Initiative, whose goal is to elevate the form of improv, and Improbable, a London-based theater company, to attract participants from around the world.
"I'm really excited about continuing this tradition this year, because it's a great opportunity for students to learn about comedy and improv, while also discovering what it's like to put on a virtual event like this," says Veenstra.
Those skills will undoubtedly be useful long after the pandemic ends. When CTSA's artists return to their classrooms, studios, concert halls and theaters, virtual guests and audiences will continue to be welcomed.
---
Learn more about various events and guest speaker series on our website at www.arts.uci.edu.
VALS is presented with generous support from The Claire Trevor Society and CTSA Dean's Fund for Excellence.
Please visit our secure direct giving page and make a gift to support to CTSA today!
CONNECT - Summer 2021