Dance Visions 2018 Mixes Art, Technology, and Choreography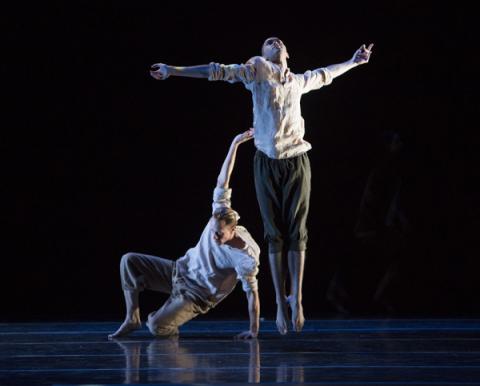 DANCE VISIONS 2018 MIXES ART, TECHNOLOGY, AND CHOREOGRAPHY BY DANCE LEGENDS AT THE IRVINE BARCLAY THEATRE 
Irvine, Calif., February 14, 2018 - The University of California, Irvine's Department of Dance will proudly present thrilling pieces by several prestigious choreographers in the annual event, Dance Visions performing from February 22-24 at the Irvine Barclay Theatre. The event consists of original works by UCI Distinguished Professors Lar Lubovitch, and Donald McKayle, along with Chad Michael Hall, Lisa Naugle, and video direction by John Crawford. Artistic collaborations include a performance by violinist/composer Mari Kimura, set design by Dipu Gupta, and lighting design by Lonnie Alcaraz. The event will also comprise the reconstruction of "The Kingdom of the Shades" a celebrated scene from Marius Petipa's full-length ballet La Bayadère by Tong Wang and Diane Diefenderfer.
"The event Dance Visions is an opportunity for the audience and the dance community to see something that is not only beautiful and touching but could even make you feel unsettled, as long as you leave the theatre feeling like you are part of something that was impactful and eye-opening," said Tong Wang, UCI Co-Artistic Director for the event. "Dance Visions challenges this by taking something new and exciting and having both the dancers and audience members taking a risk to learn and see something unfamiliar and rewarding. I want everyone to leave the theatre feeling something, could be anything, as long as the feeling is long lasting. Just like aged wine, the more lingering the taste is, the more you cannot wait to try more."
Dance Visions 2018 will display a variety of modern, classical ballet, and contemporary dances performed by the undergraduates and graduates of UCI Department of Dance who will illustrate vibrant pieces to ignite passion and purpose. In order of appearance, choreographers Tong Wang and Diane Diefenderfer will exhibit one of classical ballet's most celebrated pieces, consisting of 30 dancers redefining the styles of La Bayadère. Multi-media artist John Crawford presents Storm Space, a brief look into the world of screendance. Distinguished Professor Emeritus Donald McKayle's Death and Eros presents a movement illumination of the legend of the Skeleton Woman; an Inuit tale passed down in the oral tradition from generation to generation. Lisa Naugle, Chair of the Department of Dance, combines original choreography with live interactive sound, original set design and video projection in Spaces Between with a composition and performance by violinist/composer Mari Kimura. Chad Michael Hall, Co-Artistic Director, reinterprets the role of the principal ballerina in Pointe-Blank. To close the show, Distinguished Professor Lar Lubovitch reconstructs Marimba, originally created for Maurice Béjart's Ballet of the 20th Century and premiered in 1976 at the Théâtre Royal de la Monnaie in Brussels, Belgium.
For Dance Vision 2018 times and tickets, call 949-824-2787 or visit www.arts.uci.edu/tickets.