UCI Claire Trevor School of the Arts Names the Annual ASTAIREAWARDS® Scholarship and Award Recipients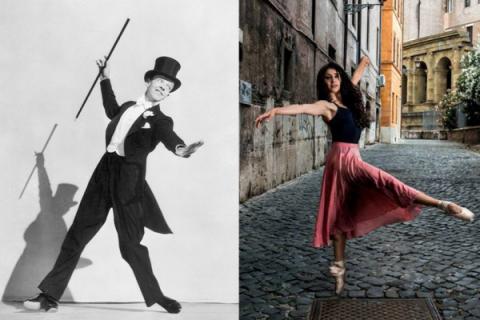 UCI Claire Trevor School of the Arts Names the Annual ASTAIREAWARDS® Scholarship and Award Recipients
The Department of Dance Honors Laman Musayeva and Rachel Wu
Irvine, Calif., May 3, 2018 – The Department of Dance in the Claire Trevor School of the Arts at the University of California, Irvine announces their annual ASTAIREAWARDS® Scholarship and Award recipients are fourth-year dance students Laman Musayeva and Rachel Wu. The annual scholarship is given to students for excellence in dance, choreography, and music. The students will be honored at the upcoming Claire Trevor School of the Arts Scholarship breakfast at the Claire Trevor Theatre on Friday, May 11, 2018. 
"Rachel and Laman were selected for this award by the Dance faculty.  We based our decision on Rachel and Laman's demonstrated skills in dance technique and overall excellence as students and emerging artists," said Lisa Naugle, Chair of the Department of Dance. "Their work is consistent and high quality, they readily share ideas and collaborate with peers. Perhaps most importantly, their creativity is seen in their outstanding performances. Both students contribute to the dynamic dance community at UC, Irvine and are professional in all they do." 
Laman Musayeva began taking dance lessons at age six in her hometown of Baku, Azerbaijan. Starting at age twelve, she studied ballet at the Baku Choreographic Academy (BCA) including the Vaganova method and world folk dances. Her repertoire includes ballet, tap, hip-hop, jazz-funk, and contemporary dance. Along with teaching, Laman performed for various events including television shows, live concerts, and music videos. Some of her dance credits include Chicago the Musical, Seven Beauties, The Nutcracker, Carnival of the Animals, and Sweet Synergy Suite. At UC Irvine, Laman performed in New Slate 2016 and La Tempesta. She choreographed pieces for Physical Graffiti 2017 and Bare Bones Dance Theatre's annual concert. In the summer of 2017, she toured and performed in Italy, with DTM2 (Dance, Theatre, Music, and Media) under the direction of Professors Lisa Naugle and John Crawford. Laman has a degree in French from Azerbaijan University of Languages, an AA in Dance from San Diego City College, and plans to graduate with a BFA degree in Choreography in June 2018.
Rachel Wu is an accomplished ballerina. She studied the Vaganova method at the International Ballet Academy and Olympic Ballet School in Washington. At UC Irvine, Rachel has continued to train in ballet and expand her training to include modern, contemporary, and jazz. Her performance credits include Don Quixote, Giselle, Coppelia, The Nutcracker and excerpts from Chopiniana and Paquita. In 2010, she performed at the Dance Open International Ballet Festival in St. Petersburg, Russia. She performed in UCI's New Slate, Dance Visions, Dance Escape, and Physical Graffiti as well as graduate and undergraduate thesis concerts. In addition to her training at UC Irvine, Rachel attended summer programs at Ballet West, Hubbard Street Chicago, and Alonzo King LINES Ballet, and a winter workshop with BODYTRAFFIC and Kate Wallich. In her final year at UCI, she has had the honor of working with dance legend Professor Donald McKayle in his Etude Ensemble. Rachel plans to graduate with a BFA in Dance Performance at the end of the academic term.
The Department of Dance faculty, a committee, appointed by Stephen Barker, Ph.D., Dean of the Claire Trevor School of the Arts, determined the ASTAIREAWARDS® scholarship recipients. The criteria for the annual award are based on excellence of dancing talent, performance, and dedication to the field of dance.
About the Claire Trevor School of the Arts: As UCI's creative laboratory, the Claire Trevor School of the Arts explores and presents the arts as the essence of human experience and expression through art forms ranging from the most traditional to the radically new. The international faculty work across a wide variety of disciplines, partnering with others across the campus. Nationally ranked programs in art, dance, drama, and music begin with training but end in original invention. Students come to UCI to learn to be citizen-artists, to sharpen their skills and talents, and to become the molders and leaders of world culture. For more information, visit www.arts.uci.edu.
About the University of California, Irvine: Founded in 1965, UCI is the youngest member of the prestigious Association of American Universities. The campus has produced three Nobel laureates and is known for its academic achievement, premier research, innovation and anteater mascot. Led by Chancellor Howard Gillman, UCI has more than 30,000 students and offers 192 degree programs. It's located in one of the world's safest and most economically vibrant communities and is Orange County's second-largest employer, contributing $5 billion annually to the local economy. For more on UCI, visit www.uci.edu.
Media access: Radio programs/stations may, for a fee, use an on-campus ISDN line to interview UCI faculty and experts, subject to availability and university approval. For more UCI news, visit news.uci.edu. Additional resources for journalists may be found at communications.uci.edu/for-journalists.
The rights to use the ASTAIREAWARDS® trademark and the name FRED ASTAIRE have been granted through a special license from Mrs. Fred Astaire, Beverly Hills, California.  All rights reserved.
Images: (above left) Mr. Fred Astaire, an American dancer, often regarded as the greatest popular music dancer of stage and film of all time.
(above right) Ms. Laman Musayeva, a 2018 recipient of the ASTAIREAWARDS® scholarship, dances in the streets of Rome, Italy, 2017.