Vitor Luiz
Prior Company Membership:
Principal Dancer with the San Francisco Ballet, Ballet of Rio de Janeiro, English National Ballet.
Other Companies: Birmingham Royal Ballet, Cuban Classical Ballet of Miami, Sodre Ballet, Ballet Argentino de la Plata, Connecticut Ballet and others.
Vitor Luiz reached international recognition in the dance world, due to his versatile style, work ethics, dancing and partnering skills, before joining Claire Trevor School of The Arts as an Assistant Professor in 2019, with a committed enthusiasm to share his knowledge to a new generation of dancers at University of California -Irvine.
Born in Brazil, Vitor Luiz studied classical ballet by Brazilian distinguished ballet masters such as Pedro Kraszczuk, Dalal Achcar, Stella de Mello and Victor Navarro. At the age of 16, he was granted a full scholarship at the Royal Ballet School in London, and his professional career began before he was 18 years old in England, with the Birmingham Royal Ballet.
In 2001, Vitor joined the Municipal Theater of Rio de Janeiro's, Brazilians most traditional major classical ballet company, where he became a principal dancer and international guest artist, before San Francisco Ballet as Principal in 2009.
Due to his experience in both Europe and the Americas, diverse training and influences, Vitor was fortunate to be exposed to a diverse amount of repertoire and dance styles. That fed his curiosity, which led his interest in San Francisco Ballet, for its well-known reputation on innovation. He enjoyed 10 years with this company.
During his time at San Francisco Ballet, he danced major roles in classical and contemporary ballet, while also performing as a regular guest artist with English National Ballet, and many other esteemed companies, galas, and productions around the world. His strong balance between dancing and partnering, artistic versatility, and strong stage pretense had made him an important asset for the companies he belonged to when creating roles, and his classical training allowed him to perform almost every major classical ballet repertoire. Vitor has worked closely with some of the most prestigious choreographers and icons in classical and contemporary ballet today. In England, with the Royal Ballet School, Birmingham Royal Ballet and English National Ballet, he experienced the British repertoire and their disciples at its finest. 
In San Francisco Ballet and at Ballet of Rio de Janeiro, he worked closely with choreographers and directors such as Helgi Tomasson, Tetley, Forsythe or Cranko, Ashton, Cragun, Vasiliev, Makarova, Scarlet, Caniparolli, just to name a few.
Vitor won the "Isadora Duncan Dance Award" for Best Ensemble Performance in Possokhov's Classical Symphony during the 2010 Repertory Season. He has also won awards for his works in Brazil with esteemed dance organizations, ballet competitions and government recognized institutions. 
Vitor was nominated as a member of CID- International Dance Council, Paris. Official partner of UNESCO, due to his international recognition and contribution to the arts. 
His newest works "Sheherezade" choreographed and performed by him with his wife and partner Tara Ghassemieh was given a rave review after its debut at the Segerstrom Music Hall in the summer of 2019. Due to their success, Vitor and Tara have been commissioned to choreograph future full-length ballets for Festival Ballet Theatre and to choreograph new works for the talented musicians of OC Chamber Music Hall in May of 2020.
Besides dancing, Vitor was head of the production, conducted many masterclasses and workshops in Brazil, China, Australia, and the United States. He has taught/performed and is currently affiliated with nationwide dance organizations as a guest teacher and artist including Southland Ballet Academy in Southern California, Atlanta Ballet, Shanghai Theater Academy, Melbourne Academy of the Arts School of Dance and Australia National Youth Ballet, Hong Kong Ballet, Youth American Grand Prix among others.
Recent Repertoire:
In San Francisco , Vitor's most recent works where in Tomasson's Giselle (Albrecht), Nutcracker (King of the Snow and Grand Pas de Deux Prince), Romeo & Juliet (Mercutio), The Sleeping Beauty (Prince Desiré), and Swan Lake (Prince Siegfried); Tomasson/Possokhov's Don Quixote (Basilio); Balanchine's Coppélia (Franz); Cranko's Onegin (Onegin); Scarlett's Frankenstein (The Creature); Balanchine's Prodigal Son; and Makarova's (after Petipa) "The Kingdom of the Shades" from La Bayadère, Act II (Solor). He created roles in Tomasson's Trio; Caniparoli's Tears; Liang's The Infinite Ocean and Symphonic Dances; Lopez Ochoa's Guernica; Possokhov's "Adagio" from Carmen, Swimmer, and Talk to Her (Hable con Ella); Wheeldon's Number Nine; and Zanella's Underskin. His repertory includes principal roles in Ashton's Symphonic Variations; Balanchine's Divertimento No. 15, Serenade, Pas de Deux from Stars and Stripes, Symphony in C, and Theme and Variations; Bubeníček's Gentle Memories; Caniparoli's Ibsen's House and No Other; Lifar's Suite en Blanc; MacMillan's Winter Dreams; Millepied's The Chairman Dances—Quartet for Two; Nureyev's Raymonda—Act III; Petipa's Le Corsaire Pas de Deux; Possokhov's Classical Symphony, RAkU, and The Rite of Spring; Ratmansky's Russian Seasons, Seven Sonatas, and Shostakovich Trilogy; Robbins' Dances at a Gathering; Scarlett's Fearful Symmetries and Hummingbird; Thatcher's Otherness; Tomasson's 7 for Eight, Concerto Grosso, The Fifth Season, Haffner Symphony, On a Theme of Paganini, and Prism; and Wheeldon's Within the Golden Hour. He danced a featured a role in King's The Collective Agreement. 
Photo Credit: Renato Hatsushi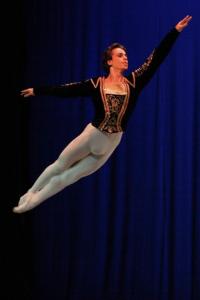 Title:
Assistant Professor of Dance