UCI Dance Student Receives Inaugural ASTAIREAWARDS™ Scholarship and Award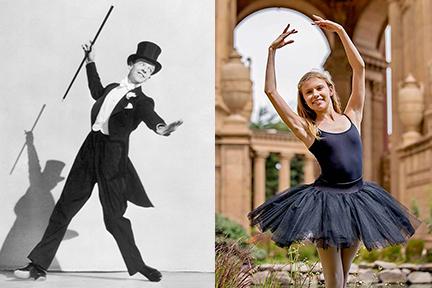 UCI Claire Trevor School of the Arts Student Receives Inaugural ASTAIREAWARDS™ Scholarship and Award
The Department of Dance Names Jill Oates the First Recipient
Irvine, Calif., Feb. 17, 2017 – The Fred Astaire Scholarship Fund has donated to the University of California, Irvine Department of Dance an endowment for the ASTAIREAWARDS™ scholarships and awards for excellence in dance, choreography, and music. Third-year dance student Jill Oates has been named the inaugural recipient and will be awarded the annual ASTAIREAWARDS™ scholarship and award at a reception for the upcoming "Dance Visions 2017" at the Irvine Barclay Theatre on Thursday, February 23, 2017. 
"Jill was selected as the first recipient based on her excellent technical skills, focus, discipline, work ethic, and passion for dance," said Lisa Naugle, Dance Chair. "She consistently shows respect for others, is incredibly supportive of her peers, and contributes to the community."
During her college career, Ms. Oates has been an active member of the Dance Department. She has performed in "Dance Escape," "Physical Graffiti," and since 2014 in the "Dance Visions" annual concerts. In January 2017, Ms. Oates performed in Tong Wang's choreography, Butterfly Love, which was a cross-collaboration with the Pacific Symphony Orchestra under conductor Carl St. Clair. This month she performs in Molly Lynch's ballet, A Moment, for "Dance Visions 2017."
"I am shocked and honored to have been chosen as the first recipient of the ASTAIREAWARDS™ scholarship named after such an iconic dance figure. Fred Astaire's legacy of commitment to both performance and technical excellence is something that I have always admired and valued as a dancer," commented ASTAIREAWARDS™ recipient Jill Oates. "Dance has always been my passion. Through this award and scholarship and with the guidance of the faculty at UC Irvine, I am excited to be able to continue to refine my dance technique and develop my artistry to attain my goal of dancing professionally."
A committee from the Department of Dance, appointed by Stephen Barker, Ph.D., Dean of the Claire Trevor School of the Arts, determined the ASTAIREAWARDS™ scholarship recipient. The criteria for the annual award are based on excellence of dancing talent, performance, and dedication to the field of dance. Ultimately, Ms. Oates was selected from nine finalists from the department's student body.
The rights to use the ASTAIREAWARDS™ trademark and the name FRED ASTAIRE have been granted through a special license from Mrs. Fred Astaire, Beverly Hills, California. All rights reserved.
Images: (above left) Mr. Fred Astaire, an American dancer, often regarded as the greatest popular music dancer of stage and film of all time.
(above right) Ms. Jill Oates, UC Irvine dance student and inaugural recipient of the ASTAIREAWARDS™ scholarship and award for excellence in dance, choreography, and music. Photo by Christine Larsen.