Applying To The Undergraduate Program in Dance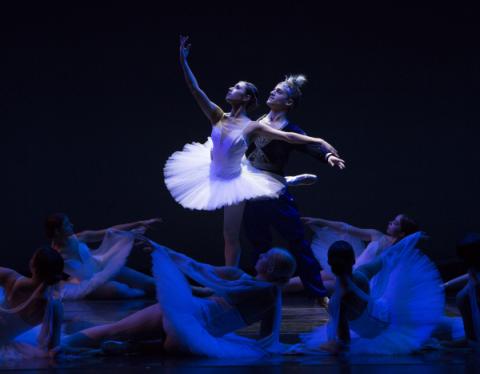 IMPORTANT DATES:
UCI Undergraduate Application Period:
November 1, 2019 through November 30, 2019
 
Register for ONE Audition Date:
AUDITION DATES WILL BE POSTED DURING THE MONTH OF AUGUST
To apply for admission to the UCI Dance Department, first visit the UCI Admissions website for complete details on application procedures and fees.  You must apply online to the University of California by November 30.
In addition to submitting your application to the UC Admissions Office, you must submit the online Audition Registration Form by December 19, 2019 to secure your spot in one of the audition dates.  Space is limited, so register early to ensure you can audition on your desired date.  Once you submit this form you will receive an email confirmation of your registration and audition date.  You also need to download the Undergraduate Audition Packet which has important information on the audition schedule, DVD submission guidelines, and other important details.
NOTE: Resumes, photos, and letters of recommendation are not required and WILL NOT BE ACCEPTED.
If you have any additional questions after reviewing the Undergraduate Audition Packet, please contact the UCI Dance Department.
---
Incoming Freshmen Students
As well as satisfying University of California subject requirements for undergraduate admission (consult the UCI General Catalogue for details), applicants to the Dance department must demonstrate technical accomplishment and creative promise to succeed in the major. You are encouraged to develop abilities in one or more dance techniques such as ballet, modern, jazz and ethnic dance forms. The department holds annual entrance auditions for potential freshmen during winter quarter prior to acceptance to the Dance Department in the ensuing fall quarter. Additionally, placement examinations are required of all entering dance majors. Placement examinations are given during Welcome Week in fall quarter and determines which levels of ballet, modern, and jazz classes the student will take.
You will receive University credit for each Advanced Placement Examination of the College Board passed with a score of 3.0 or higher. See the the UCI General Catalogue for specific information on Advanced Placement credit.
 
---
Transfer Students
Ideal lower-division preparation for transfer consists of course work that blends University of California admission requirements, degree requirements of the school and major of your choice, and the breadth/general education plan best suited to your interests and goals. Design your schedule to accomplish the following:
1. Satisfy general University of California requirements for admission as a transfer student. Units, grade point average, and subject requirements are described in the UCI General Catalogue and explained in the University of California Transfer page.
2. Work toward meeting the UCI breadth requirement. For the student majoring in Dance, it is especially useful to complete breadth/general education courses prior to transfer, since many of the courses required for the Dance major are not offered at other institutions. Completion of breadth courses will allow you to focus on the courses required for your major once you transfer here.
Transfer students have several options for fulfilling the breadth requirement, as described in the UCI General Catalogue. The option most frequently elected by students transferring to the UCI campus is UCI's own breadth plan. If you are sure that you want to transfer to UCI and major in Dance, it is to your advantage to take courses that apply to the UCI's breadth plan, because these courses may also satisfy other specific requirements for your UCI degree. Note that if you choose the UCI-specific breadth plan, but do not complete it prior to transfer, you may do so after enrolling at UCI if the scheduling better fits with your needs in preparing for transfer. As an alternative for meeting the breadth requirement, UCI accepts completion of the Intersegmental General Education Transfer Curriculum ("IGETC"). For more on IGETC see the IGETC page. Note that if you elect to follow the IGETC you must complete it in its entirety prior to enrolling at UCI.
3. If you are considering pursuit of a double major, or of a minor or concentration in a second academic area, you should seek additional guidance in order to select the particular breadth or general education option that is most advantageous for you.
4. Work toward meeting the lower-division requirements of your school and major. If you plan to transfer to UCI in your junior year to major in Dance, try to take the courses listed below prior to transfer:
An approved one-year sequence in English composition
Basic training in ballet, jazz, and modern dance technique
5. If courses in the following areas are available at your college, completing them will afford you additional strong preparation for the Dance major at UCI:
One course in music for dancers
One course in injury prevention
One course in Improvisation and Introduction to Choreography
One year of Dance History
6. All transfer students must take the entrance audition given during the winter quarter prior to acceptance to the Dance Department in the ensuing fall quarter. Once accepted transfer students wishing to enter any level of ballet, modern, or jazz dance beyond the beginning level are required to participate in the placement auditions held during orientation/welcome week in the fall. This placement level generally determines the minimum number of years it will take to complete departmental requirements for the major of Dance.
7. To ensure that you are enrolled in the appropriate courses to facilitate your transfer to the UCI Dance Department, work closely with your college counselor, or contact the UCI Office of Admissions.
Photo by Rose Eichenbaum