Graduate Programs: MFA in Dance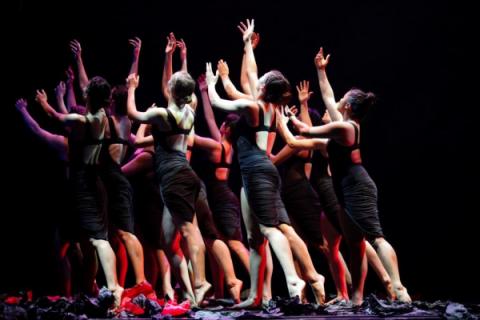 With fifteen full-time faculty, the Department of Dance at the University of California, Irvine offers a comprehensive approach to graduate dance education.The department has a strong foundation in dance technique, offering multiple levels of ballet, modern/contemporary dance, and jazz dance, as well as  Pilates, pointe, partnering, tap dance, world dance, social dance, and Hip-Hop. The graduate program offers courses in choreography, teaching, dance and video, dance and technology, lighting for dance, music, performance, critical issues, dance history, Laban Movement Analysis, research methods, dance science, and other topics and projects. Graduate students may also choose from a large selection of upper-level undergraduate dance courses, including repertory, improvisation, dance management, and special offerings. Studio, theory, history, and technology courses support and reinforce each other. Substantial financial aid is available.
Graduate students are encouraged to develop their individual strengths and interests, particularly in the thesis project, which takes up most of the second year. Our large faculty, which represents various disciplines, professional backgrounds, and areas of expertise, facilitate the development of student interests. In addition, travel grants are available for graduate student research in choreography, video or other technology, scholarship, or other related areas.  
Graduate student choreography is presented in two formal MFA concerts each year.   Each student whose work is chosen for one of these concerts is offered a faculty mentor, who is available to the student for discussion of the work. Graduate students also articulate their choreographic ideas in one of several thesis concerts each year or in site-specific work, video, technology projects, or studio showings. In addition to its traditional proscenium theatres, the School's new black-box theatre, the Experimental Media Performance Lab (xMPL), provides students with the ability to combine video or other technology with choreography in a flexible theatrical setting. Graduate students have contributed to faculty-directed projects in choreography, technology, video, internet performance, and other areas. Performance opportunities abound for graduate students.
At the end of the first year, each graduate student chooses a professor who guides him/her through the thesis project, as well as two faculty who bring additional areas of expertise. Most students choose to produce a choreographic project with a supporting paper as their thesis project. Some students include a video, photography, or technology component with their choreography and supporting paper.  Others produce written theses in dance science or dance education. Our graduate courses are typically 10 students in a course. The department has excellent facilities, including six dance studios (one of which converts to a performing space) and a motion capture studio.  Dancers perform in three proscenium theatres, a dance studio with seating, an experimental black box theatre, and in site-specific work in the area.
Our graduate students have included professional dancers; choreographers in ballet, modern/contemporary dance, jazz dance, dance video, musical theater, commercial dance, and world dance forms; Fulbright scholars and dance teachers; as well as more recent graduates of dance programs. Many UCI MFA alumni have gone on to careers as college and university professors, while others have pursued careers as performers, choreographers, high school and studio teachers, and arts administrators.
Pictured: Graduate students showcase their original choreography, New Slate 2014. Photo: Skye Schmidt