Graduate Programs: MFA in Dance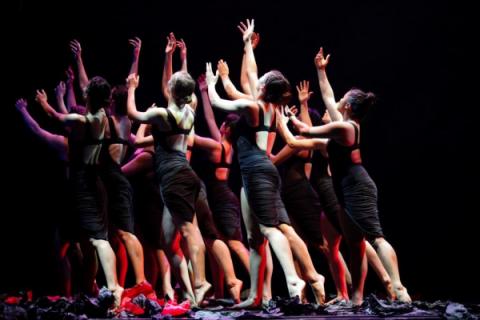 With fourteen full-time and a number of part-time faculty, the Department of Dance at the University of California, Irvine is one of the most comprehensive university dance programs in the United States. We believe that student choreography, teaching, and scholarship benefit from exposure to many styles and approaches to dance. Our vision is to inspire and prepare the next generation of dance professionals.
The department has a strong technical base, offering multiple levels of ballet, modern/contemporary, jazz, tap, and Spanish Dance. Social Dance, Pilates, pointe, and a changing array of additional dance forms are also offered each year. The graduate program offers courses in choreography, teaching, dance and video, dance and technology, lighting for dance, music, critical issues, dance history, Laban Movement Analysis, research methods, dance science, and other topics. Graduate students may also choose from a large selection of upper-level undergraduate dance courses, including repertory, improvisation, partnering, dance management, performance, and more. Studio, theory, history, and technology courses support and reinforce each other. Substantial financial aid is available.
Graduate students are encouraged to develop their individual strengths and interests, particularly in the thesis project, which takes up most of the second year. Our large faculty, which represents various disciplines, professional backgrounds, and areas of expertise, facilitate the development of student interests. In addition, travel grants are available for graduate student research that results in choreography, video, or scholarly work.  Students have conducted research at such archives as the Paris Opéra, Jacob's Pillow, and the New York Public Library of the Performing Arts at Lincoln Center.  They have also traveled to conduct interviews, create video or photography, or investigate other areas relating to choreographic projects or scholarly work.  
Graduate student choreography is presented in two formal MFA concerts each year.   Each student whose work is chosen for one of these concerts is offered a faculty mentor, who is available to the student for discussion of the work.  In addition, graduate students articulate their choreographic ideas in one of several shared thesis concerts each year or in site-specific work, video, technology projects, or studio showings. The School's new black-box theatre, the Experimental Media Performance Lab (xMPL), provides students with the ability to combine video or other technology with choreography in a flexible theatrical setting. Graduate students also contribute to faculty-directed projects in choreography, technology, video, internet performance, and other areas.
Performance opportunities abound for graduate students.  In addition to the four dance concerts produced each year, students perform in graduate student thesis concerts and special faculty projects (both on and off campus, including international venues).  Students perform in three theatres in the Claire Trevor School for the Arts, as well as in our studio-performance space, in site-specific works, internet projects, and on video.
At the end of the first year, each graduate student chooses a professor who guides him/her through the thesis project, as well as two faculty who bring additional areas of expertise. Most students choose to produce a choreographic project with a supporting paper as their thesis project. Some students include a video, photography, or technology component with their choreography and supporting paper.  Others produce written theses in dance history, critical issues, dance science, or dance education.Our students enjoy the advantages of our extensive course offerings combined with small enrollments of 10-12 students in our graduate courses. The department has excellent facilities, including six dance studios (one of which converts to a performing space), a video editing room, and a motion capture studio.  
Our graduate students have included choreographers, members of dance companies and national tours, Fulbright scholars, and dance teachers, as well as more recent graduates of dance programs.
Pictured: Graduate students showcase their original choreography, New Slate 2014. Photo: Skye Schmidt