Research Areas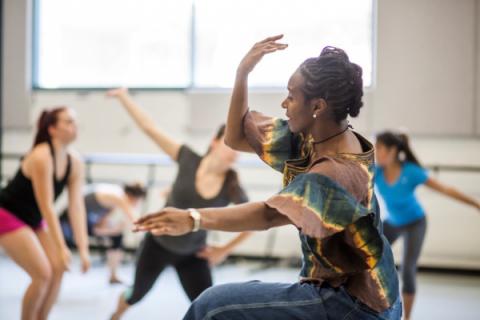 Our wide-ranging areas of research and study create an environment in which students create, perform, analyze and investigate dance from experiential, historical, philosophical and scientific perspectives.
Click an area for more details...
Intensive performance training to inspire and prepare the next generation of dance professionals
Integrating dance with digital media, motion capture, telematics and interactive technology.
Applying the science of human kinesiology to dance theory and practice Dance
Historical contexts, major works, artists, events, trends and dance evolution
Exploring the power of dance through writing and arguing for points of view. Other areas of research and study include: Choreography & Composition, Music for Dancers, Notation & Reconstruction, Pedagogy & Teaching of Dance
Pictured at top: Sheron Wray, Assistant Professor of Dance, specialzing in Jazz Dance; Improvisation; and Choreography, teaches Jazz to students.
Photo by Skye Schmidt